Something Old, Something New…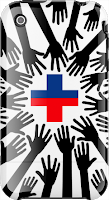 I have officially taken the plunge. Yes, I'm now the proud owner of an iPhone and, as such, can no longer endlessly tease Robin on Ready Radio.
But when I'm not busy downloading life-saving apps, I've put a little time into thinking about what I should do with my old cell phone.
If you've been wrestling with this dilemma yourself, I've got a solution — send it to Phones For Haiti.
From the website: ReCellular will give 100% of the phone value as a contribution to the American Red Cross. In addition, qualifying phones will be refurbished and supplied to aid groups working in Haiti. All phones are accepted, though newer phones will provide the most value to the charity – in some cases $100 or more.
Pretty cool, right?
And once you've passed along your old phone, I've got a tip for dressing up your new one (well, if it's an iPhone, that is).
Check out these very cool collectible cases from Uncommon. Each one is $39.95 and 100% of the proceeds go to Red Cross relief in Haiti.
Honestly, all seven designs are pretty sweet. I can't pick a favorite. Maybe I'll find six friends, get them all and then periodically swap? You in?