Onè Respe, A Photographic Benefit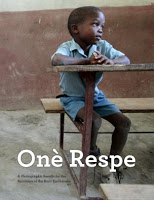 We've all seen the recent photos from Haiti — wreckage, injuries and heartbreak.
Every day, it becomes harder to recall the beauty of the country and its people, as colorful memories are replaced with grim image after image.
That's why I'm so drawn to
Haiti: Onè Respe, A Photographic Benefit for the Survivors of the Haiti Earthquake
.
According to the website, the title comes from a traditional Haitian greeting meaning "honor and respect." Several photographers, including photojournalist Mary Ellen Mark, have donated photographs to create this collection of images. And since MagCloud has paid for the printing costs, the purchase price is donated in full to the American Red Cross for Haiti relief.
Go here to see the preview and take a moment to remember just how this captivating country has changed forever.