Dr. Charles Drew: Blood Banking Pioneer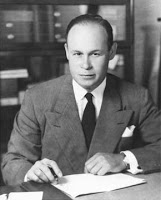 Dr. Charles Drew (1904-1950), an African American blood specialist, surgeon, educator and scientist, was the first medical director of the first American Red Cross blood bank. Dr. Drew laid the foundation for modern blood banking. Today's American Red Cross blood program is the result of his pioneering work in blood collection, plasma processing and transfusion.
During the month of February we celebrate Black History Month. You can honor Dr. Charles Drew and and his important contributions to blood banking by scheduling an appointment to donate blood. Call 1-800-RED CROSS or visit redcrossblood.org.
Click here for more information on Dr. Charles Drew.