TOTN: Differences Between Haiti & Chile Quakes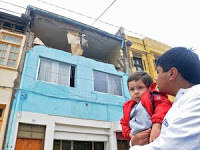 I missed Monday's episode of Talk of the Nation on NPR.
Normally, I'd be okay with that, but this discussion sounded fascinating. TOTN took a look at the recent earthquakes in Haiti and Chile — what makes them different and and why some countries prepare for earthquakes better than others.
Fortunately, you can still listen to the discussion online or check out the transcript, both of which I'd highly recommend. One of the guests, Eliana Loveluck, lived through the Valdivia earthquake in Chile in 1960 and remembers the experience well. She and her sister even invented a game — "the earthquake game," naturally — where they'd reenact everything that transpired as a way of processing the tragedy.
Also interesting — the discussion of "seismic design philosophy" that has been implemented in Chile, a place where buildings were designed with earthquake engineering in mind. Impoverished countries don't often have strong construction codes…and this can make all the difference.

Photo: Felipe Gamboa/AFP/Getty Images