Turkey's Earthquake Proof Airport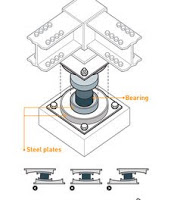 Designed by the engineering firm Arup and able to withstand an 8.0 magnitude earthquake, the 2 million square-foot terminal can absorb 80 percent of back-and-forth shaking, the most destructive movement. How? The building features a foundation with 300 dampers, each with a bearing sandwiched between sliding steel plates (see image).
But why bother with such complex construction? Since Istanbul is located over three tectonic plates, a major earthquake is likely to occur in the near future — in fact, there's about a 60 percent chance that an earthquake will level the city by 2040. An airport that's still standing can be used to fly in emergency medical supplies and food, key components of disaster relief.
Hey Port of Portland, are you listening?
Thanks to Popular Science and Trendhunter for help!