Monitoring Earthquakes…From the Coffee Shop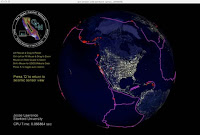 Got a laptop? You can help monitor earthquakes.
As reported in the the Los Angeles Times, the "Quake Catchers" program aims to make earthquake detection easier and cheaper by using accelerometers built into MacBooks and other newer laptops. Accelerometers are tiny devices that detect movement and are embedded in everything from iPhones to the Nintendo Wii.
Scientist Elizabeth Cochran got the idea of harnessing accelerometers for an earthquake network by watching the "Seismac" program on a friend's MacBook. But while Seismac allows you to shake the MacBook and get accelerometer readings for fun, Cochran hopes "Quake Catchers" can help science and maybe save lives.
If schools, businesses and individuals sign on for the program, there's hope that this could become part of an early warning system. There are already 1,000 people in the network…wanna join?
Thanks to the Los Angeles Times and Popular Science