CreHAITIve Re/Vision In Pittsburgh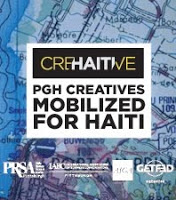 I never thought I'd say this, but I'm totally jealous of Pittsburgh.
You see, Pittsburgh creatives recently held an (awesome) event for Haiti and I'm kicking myself that we didn't do the same thing in Portland.
The benefit auction — CREHAITIVE RE/VISION — showcased an amazing collection of posters, each representing the themes of rebuilding communities and restoring hope in Haiti.
According to the event curator, the posters "also shined as an example of the collective support of the greater Pittsburgh community for the relief efforts of the Red Cross, as they came out to bid on these one-of-a-kind designer-submitted creations."
While I am impressed with every single poster, I've picked four of my favorites for you to check out. You can see all of the 65 submissions right here (click on the first one and you'll be able to scroll through the rest).