Foursquare: Rewarding Volunteerism?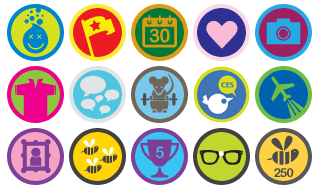 Despite the existence of
Please Rob Me,
I've been experimenting with
Foursquare
.
I mainly started to see if there was some way we could be using the geo-locating service for work…a discount in our store for people who check in? A free first aid kit for our Mayor?
And, naturally, I wasn't the first one to check in at the Red Cross. In fact, our current Mayor — Jesse — comes in every other Thursday to give platelets. Yeah, he's not going to be ousted any time soon. (And, yes, we totally gave him a t-shirt.)
I tell you this because the fine folks at Stage Two Consulting recently blogged a similar idea. If there are all these badges for exploring bars, coffee shops and the like, why aren't there a few badges for doing good in your community?
Among their suggestions:
The Spare a Pint Badge — One of the things people think about when they're helping others is giving blood. So now you've unlocked the "Spare a Pint?" badge on FourSquare! Just like getting a Starbucks badge for checking in and getting your coffee, getting this badge should be just as simple…except you're going to be saving someone's life as a result.
The Kris Kross Badge – Not one to exploit tragedies, but if you decide to help in an emergency, whether it's local, statewide, national or even international, you should be recognized for your actions and good deeds in helping out the Red Cross. This is in honor of all the volunteers who risk their lives to help others.
The Good Samaritan Badge – Earned by gaining any five of the above badges (or by going to five different volunteering venues/facilities).
I adore this idea and am thrilled to see people thinking about other ways that tools like Foursquare (and Gowalla) can support non-profits and encourage community involvement.
If you use these tools, would you try for one of these badges?