New Oregon Tsunami Warning System Unveiled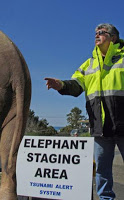 When a devastating tsunami struck Indonesia in 2004, many were saved because of an unexpected phenomenon: elephants on the coast bolted from their pens and headed inland, en masse.
As communities along the Oregon Coast continue to enhance and update their planning and preparation for the threat of tsunamis, they are taking those lessons to heart.
Starting today, as many as 15 Asian elephants will be lodged in new holding pens near the shoreline at various points throughout Lincoln County. Oregon Zoo staffers, along with "mahouts," elephant wranglers from the Elephant Nature Park in Thailand, are helping train fire department and CERT volunteers on care and feeding of these massive early-warning devices.