Twitter Storm Team: Report!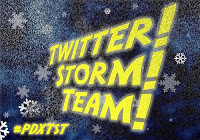 Just because you can't get their alerts doesn't mean you can't alert the National Weather Service (NWS).
That's right — NWS wants you to submit your "significant weather observations" via Twitter. The key word here is significant, which I have bolded, underlined and italicized to make the point.
Generally speaking, this means they're looking for:
Damage from winds–briefly describe what was damaged and time it occurred.
Hail–include size of hail and time it fell.
Tornadoes or funnel clouds.
Flooding–briefly describe what is occurring.
Snowfall during an event and storm total. When reporting snowfall, include the time period when it fell.
Freezing rain or freezing drizzle producing a 'glaze' on objects or roads.
Dense fog restricting visibility to less than a half mile.
How does this work? With geotagging, of course! Depending on your Twitter application, geo-tagging may or may not be turned on (or even available), so go here for instructions.
Got questions? Want to display tweets from this project on your web page? Want to monitor the #wxreport tweets (here, here and here, for starters)? Want to provide some feedback? Looking for detailed information? The website has everything you need and more.
Here in Portland, we've got our own hashtag for local storms on Twitter — you can learn all about #pdxtst from Aaron Hockley in this helpful video.
So go forth and share information, Twitter Storm Team! But don't forget to get prepared first. We don't want that XKCD comic to come true…
Image from another member of the #pdxtst, caseorganic