Emergency Preparedness Town Hall Tonight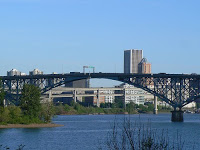 Nothing on your calendar for tonight? Consider checking this out…
The Portland Office of Emergency Management is hosting a Town Hall to talk about emergency preparedness and hear from you about disaster readiness in our city and the hazards we all face.

With natural and man-made disasters in the news on an almost daily basis, it makes sense to think about personal and community preparedness. Here's a great chance to learn more about getting prepared for any type of disaster, whether it is a power outage or a snowfall that shuts the city down for a few days, or THE BIG ONE looming on the horizon.
Carmen Merlo, Director of the Portland Office of Emergency Management, as well as Emergency Management staff will be on hand to talk about creating a disaster resilient community and the resources available to help achieve this goal.
James Roddey, from the Oregon Department of Geology and Mineral Industries, will issue a QUAKE-UP call for Portland and discuss briefly the earthquake risks we face in Portland and throughout Oregon.
You'll learn what resources you can tap into, how to begin that emergency plan, why it's so important to take responsibility in getting yourself and your family prepared, and how you can help support your local neighborhood's effort with emergency preparedness.
TONIGHT
6:30 to 8:30 PM
Multnomah Arts Center
7688 SW Capitol Highway

When the Big One hits, will our bridges go down? Photo courtesy of Matt.Picio.