Never a dull moment at the Red Cross…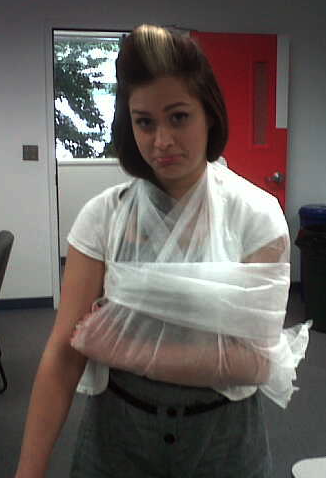 I am finding it difficult to finish my smoothie as I witness Troy Jenkins, a certified First Aid/CPR instructor and EMT, amuse the classroom with horror stories of bloody incidents. I feel like I'm about to faint but the participants are loving every minute of it, comprised of future lifeguards and nannies. The girl on the left was my First Aid partner, she was a sweetheart!! Check out their list of First Aid/CPR classes here.
It's only my fourth day as an intern at the American Red Cross Oregon Trail Chapter, and I have yet to witness a dull moment. Yesterday I rode along with
Americorps
(super sweet gig) to present Fire and Safety procedures to kiddos, with the help of Disaster Dog and Cool Cat. The day before I also went with them to a TWP presentation (Together We Prepare) for community members. Not only am I learning how to give these presentations myself, I am soaking in a ton of useful knowledge. Like,
everyone should designate an out-of-state contact to connect family members and relatives in case of an emergency because while local lines might be shut down, usually out-of-area lines will still be working. Sometimes cell phone calls might not work, but text messages will
. Good stuff. Did you know that the Red Cross will happily do these
free
presentations for anyone in our community? Classrooms, workplaces, churches, etc. Let 'em know!
May I mention, the volunteers and staff here are amazing?! I had the opportunity to celebrate an Annual Board Awards ceremony this week and was blown away by the dedication and bond shared by individuals I continue to meet and befriend every day. Red Cross is definitely a great and popular place to get involved; their Volunteer Department is a huge and valuable branch of this organization. I've already met a handful of staff that have traveled the world and with inspiring stories to share.
I'm also planning to take Disaster Responders training courses soon, so that I can be prepared in case of local or national disasters. Volunteers can be called upon to respond to emergencies in the area once they have been trained. All their classes are free! The Statewide Training Calendar can be found
here
. Join me!
Anyways, I'm off to check in with the Health and Safety Department now. Cheers!
Kalong