Hear Great Tunes, and Support a Great Cause!
Fourth of July might be over, with it's big explosions and plenty of music festivals across the region, however the great weather today is a reminder that a summer of music is just starting!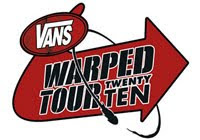 One of the largest annual events is the Vans Warped Tour. It is the longest running alternative music festival of its type in North America. The 2010 line up includes more than 100 bands, including The All-American Rejects, Motion City Soundtrack, Reel Big Fish, Sum 41 and We the Kings. They just started a nation-wide tour on the East Coast, and are heading West with the final two shows in George, Washington (8/14) and Hillsboro, Oregon (8/15).
Having the final shows is a great opportunity, thanks to Music Saves Lives. Started in 2005, Music Saves Lives is the "bridge between music, entertainment and important life-saving causes." People who present to donate at special blood drives across the region will receive a free music download card, redeemable at www.musicsaveslives.org, AND a free VIP access voucher* to the 2010 Vans Warped Tour concert (while supplies last). Music Saves Lives has educated students and encouraged over 120,000 summer blood donations from youth under the age of 25. Here is a listing of upcoming Oregon Warped Tour blood drives-
Bend Donor Center (July 8th, 15th)
Dallas Faith Evangelical Free Church (July 21st)
Grants Pass Redwood Campus (July 21st)
Gresham St Henry's Catholic Church (July 30th)
Klamath Falls Donor Center (July 29-30th)
Medford Donor Center (July 14th)
Oregon City Clackamas Community College (July 28th)
Portland Rock Creek Christian Center (July 30th)
Portland Zion Lutheran Church (August 4th)
Prineville Crook County Fire Dept. (July 13th)
Salem Donor Center (July 19th, 26th)
Stayton United Methodist Church (July 21st)
Tigard Whole Foods Market (July 30th)
For a complete listing (including Washington locations), click here or use sponsor code 'warped tour'. More locations may be added as the tour approaches, so keep checking the complete listing for updates! If you are interested in organizing a Warped Tour drive, please call 1-503-348-2770.
*VIP Vouchers are not entry tickets to the Warped Tour; to use the vouchers, people must purchase a Vans Warped Tour ticket. Voucher-holders need to take the vouchers to the Music Saves Lives booth in the Take Action non-profit area at the Warped Tour. At the booth, they can exchange the voucher for a wristband that entitles them to enter the event VIP lounge where there will be exclusive "meet and greets." The VIP area is inside the concert grounds so the pass-holder must have a purchased ticket for the Vans Warped Tour concert.