Prepare-aphernalia: The Candwich!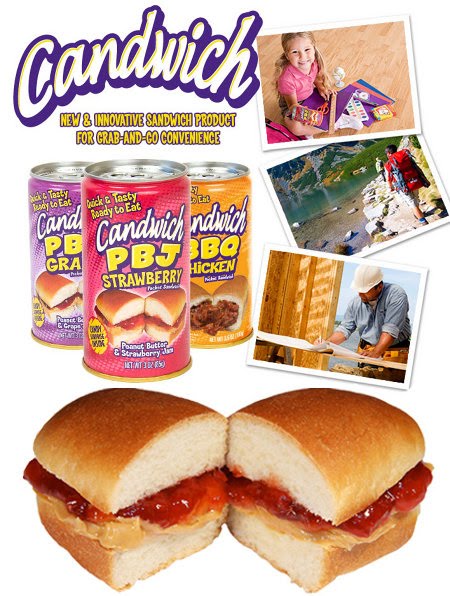 If you brown bag it to work, you've probably run into the sad problem of a soggy, smooshed sandwich. Who wants to eat a pulverized PB&J? A torn tuna? A ravaged roast beef?
Well, now there's a solution to all your sandwich issues. I give you….the CANDWICH!
The Candwich comes in traditional PB&J (grape or strawberry) and, for the more adventurous, BBQ chicken. They don't require refrigeration — you just pop the top and eat.
They're perfect for those — like me — who don't cook (yeah, I know…sandwiches aren't cooked, but they do require prep work) and they're guaranteed not to get smashed up in your lunchbox.
But the best part? They have a long shelf life, making them perfect prepare-aphernalia for your disaster kit!
Like astronaut ice cream and other canned foods, Candwiches look like the sort of thing kids would love. They're a novelty and might be fun to open in the midst of what might be a scary experience. Plus, I'm 99.9% sure they'd taste better than those icky 4,000 calorie food bars.
If you're interested in buying a Candwich, visit their website. And if you try one, can you promise to give us a full recap?
Big thanks to Lindsay Segersin for the tip!