Red Cross Community Gallery Seeks New Artists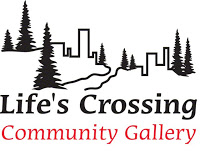 The Life's Crossing Community Gallery, located at the Red Cross Portland Donor Center (3131 N. Vancouver Ave.), is looking for varied artistic media to bring to its building!
This highly-visible gallery is open to employees, volunteers, visitors and donors who reflect the diverse programs and services the American Red Cross provides. We literally want to be Life's Crossing in our community!
Gallery shows run eight weeks in length, and are hosted free of charge for the artist. The Red Cross requires that the artist in residence is in attendance for one onsite artist reception. Artist participation is determined by a review of the artist's work.
While the Red Cross provides a space for artists to sell their work, our organization takes absolutely no commission from the gallery proceeds.
For more information about the gallery and submission process, please contact Pam O'Conner, Life's Crossing Gallery Administrator, at oconnorpam@usa.redcross.org or (503) 890-1445.