More Cookies, More Juice and More Donors Needed!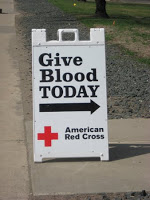 The Red Cross is experiencing an abnormally low turnout for blood donations due to the recent heat, holidays and summer vacations. The Red Cross is asking all eligible donors to take time out of their busy schedules to roll up their sleeves and give blood.
All blood types are needed. Your summer blood donation can make the difference between an adequate supply and a shortage.
To say "thank you," anyone who presents to donate blood or platelets now through July 24, 2010 will receive double points towards the Red Cross Rewards Program.
Check out Red Cross Rewards, our online donor recognition and rewards program. Donors earn points every time they present to donate blood or platelets. Points can then be exchanged for prizes, including: Red Cross apparel, music downloads, and more.



Make an appointment now, visit our website or call 1-800-RED CROSS!
Photo courtesy of images.publicradio.org