CONTEST: #just1thing For The Workplace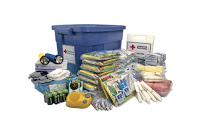 After last week's focus on families, we're turning our attention to the office for our second annual #just1thing contest.
WEEK THREE: PREPAREDNESS FOR THE WORKPLACE
Couple caveats:
1. Just because this is "workplace week" doesn't mean the winner of this kit couldn't use it elsewhere. It's perfect if you've got a (really big) family and it would be great for an organization (think church or synagogue).
2. This is our very biggest and best prize of the month — don't miss it!

So tweet us with your wisdom for the workplace.
Finally, to get you thinking about business preparedness, I'm passing along two PDFs: