Saturday: Honor MLK Through Our Blood and Organ Donor Registry Drive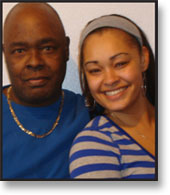 Currently in Oregon and Southwest Washington, more than 2,500 people are awaiting an organ transplant. Portland resident Randy Loving (pictured) is one of those people. As a result of diagnosed kidney failure in 1999, he spends about 15 hours a week in dialysis treatment while awaiting a transplant. 54.5% of those waiting for a kidney in Oregon and Washington represent ethnic minorities.
Some lives are forever changed by the gift of an organ donor. Misty Loving, Randy's daughter (pictured) waited two years and three months for a kidney transplant. Her odds of finding a match were lower because of ethnic disparities in the donor pool. On August 28, 2007, her wish came true. Misty's transplant operation replaced her failed kidney with a healthy, functioning organ. You can read more about Randy and Misty's incredible story in The Skanner, at this link.
Dr. Martin Luther King Jr. symbolized equal access for all. This includes equal opportunity for the lifesaving gift of blood and organ transplants.
This Saturday, community members can donate blood, learn more about organ donation, and sign up for the donor registry at the Dr. Martin Luther King, Jr. Blood and Organ Donor Registry Drive:

• Saturday, January 22, 2011 – 7:30 am to 1:00 pm.
• American Red Cross – 3131 N. Vancouver Avenue, Portland, OR 97227
• To schedule an appointment to donate blood, call 1-800-RED CROSS or register online.
This drive is co-hosted by the American Red Cross and Donate Life Northwest. Representatives from Donate Life Northwest will be available to talk about organ donation and the donor registry.
African American blood donors can sometimes offer special hope to African American patients awaiting transfusions. People with a common heritage often share blood types and sometimes also rare blood antigens, which can be used to treat patients with special blood type needs. Honor Dr. King, make an appointment to give blood and sign up for the Organ Donor Registry today!