TONIGHT: Let's Talk Tornadoes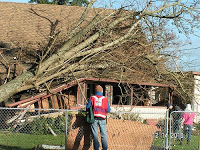 Head to
OMSI
tonight and, from 7-9 p.m. in the auditorium, experts will chat about the
tornado that struck Aumsville
, Oregon on Dec. 14, 2010. This event is
FREE
and open to the public.
Retired meteorologist, author and weather historian George Miller will offer insight into historical Oregon tornados. Meteorologists Tyree Wilde and Jonathan Wolfe from the Portland office of the National Weather Service will give a detailed technical presentation on what atmospheric conditions came together in order to create the Aumsville tornado, rated a level of "EF2" on the Enhanced Fujita Scale that classifies tornadoes into six categories based on severity and potential damage.
This should be fascinating for all the extreme weather/disaster junkies out there. Check it out!