VOLUNTEER: Meet Rick Aizawa!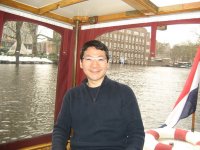 It is National Volunteer Week at the American Red Cross and we would like to take this opportunity to recognize some of the volunteers from within our local communities. Over the next week we will feature the stories of 5 selected volunteers which may inspire you to become the next Red Cross volunteer!

Rick Aizawa lives the change he wants to see in the world and the quick smile and sparkle in his eyes bespeaks his passion.
Rick is halfway through his term as a member of the Oregon Trail Chapter's Board of Directors. He serves on the Governance and Nomination committee and is helping to promote international services.
Supporting Red Cross International Services is of special interest to Rick. The mission of this relatively new board project is to educate Oregonians about international issues, particularly humanitarian aid worldwide.

Read More….