Local Expert Disputes 'Safest City' List; Urges Preparedness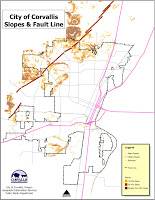 Last week we mentioned that the New York times revealed a map that lists 'where to live to avoid a natural disaster'. The Pacific Northwest dominated for lowest risk metro areas, containing 7 of their 8 ranked areas including the lowest in the nation – Corvallis, Oregon. I happen to be in Corvallis this week for a blood drive, and have been wondering if this happens to be true.
Now, a local earthquake expert from Corvallis' Oregon State University is disputing the honor. Robert Yeats, a Professor of Geology, says the study ignored several key factors and events that have occurred at many of the lowest ranked areas. For example Seattle has a proven active fault line that runs through downtown, with great risk to many of the other Pacific Northwest locations as well (the above right map is of one of Oregon's largest fault lines, that happens be in Corvallis). Additionally, the study did not account for volcanic hazards from mudflows (liquefaction). He urges that the study could give a false sense of security, when there is a need for emergency preparedness.
Want to know what you can do? In addition to a PSU seminar on Friday, the Oregon Department of Emergency Management just started a 'QuakePrep' road show that will travel across the state over the next few weeks. Additionally, you can check out our Oregon Red Cross Disaster Tips for Earthquake preparedness.
Map: City of Corvallis, Fault Line