Pit Bull Sasha Receives Red Cross Honor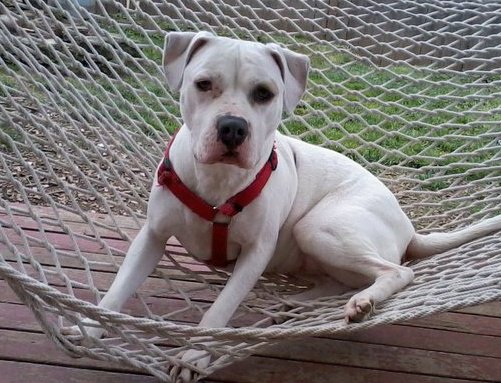 Some people are afraid of Pit Bulls, but Sasha is not a dog to be feared. Similar to most all-white dogs, Sasha was born deaf and has
miraculously
overcome
many obstacles. She also just
received
the "Animal Hero of the Year" award from the Oregon Red Cross for her work with at-risk youth.
When she came to the Lane County Animal Services in November 2010 as stray, lead volunteer trainer Micaela Frank immediatley noticed something different in Sasha. Due to her good behavior and willingness to obey, Sasha was chosen as a candidate to visit the Serbu Youth Campus, a center for at-risk juveniles and help educate childen. Sasha now visits the campus regularly, helping to educate the youth about shelter dogs, deaf dogs, pit bulls and dog training. She has also made friends with many of the children.
After seeing the impact Sasha was having on the kids at Serbu, one of the teachers on campus, Mike Washburn, nominated Sasha for the special Red Cross award recognizing exceptional animal heroes. At an award ceremony with more 200 attendees, Sasha received a medal and certificate for her achievements.