It has been a busy week in this post-Hurricane, post-Earthquake, pre-Velociraptor society, with a plethora of stories we weren't able to blog. So here's your final cut… everything that we wanted to share, but don't have time to blog.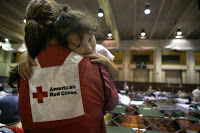 Hurricane Irene

Before/After Pics from Irene — Buzzfeed
Using a Jet Ski to traverse a flooded Oceanside, New York — Buzzfeed
In the wake of Irene, a blood drive in New Hampshire set the new national record for single-day donations at a drive (nearly 2k!) — The Union Leader (Donors are still needed!)
Earthquakes

Satirical tips for Earthquake Preparedness — The Onion (For real tips, click here)
6.8 Alaska quake prompts brief tsunami warning in remote areas — KGW
Other/Local

Red Cross responds to Warm Springs wildfire — KBND
Study finds Eugene having some of the best drivers in the country/ Western Washington having many of the worst — KGW
And finally, here are some great Red Cross tips for the Labor Day weekend! Have a great weekend!
PHOTO: American Red Cross Shelter in Nassau Community College, Long Island, New York (Talia Frenkel/American Red Cross)