Red Cross Response Continues in Oregon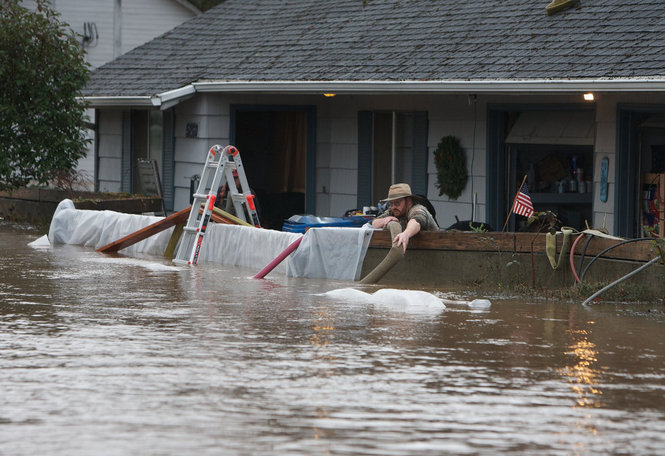 The Oregon Red Cross response to the January Winter Storm disaster began on Jan 18. The storm has been accompanied by hurricane force winds in some parts of the coast, heavy rain, snow, ice, power outages, fallen trees, flooding, landslides and two fatalities. The storm has affected ten counties to date, and has impacted Salem, coastal areas, and some small towns in the Coast foothills and central Willamette Valley.
Current impact-to-residence totals across Oregon, as identified by Red Cross disaster assessment teams, as of January 23rd, are:
• 167 residences have been affected in some way that caused the occupants to require Red Cross assistance;
• 52 residences have sustained minor damage;
• 37 residences have sustained major damage;
• 6 residences have been destroyed.
The Red Cross is currently completing Disaster Assessments in several counties and also developing a list of unmet needs for partner organizations, such as: disposal dumpsters, sheet rock, and rebuilding supplies.
We continue to send assessment teams into areas where river waters have receded. We are restocking trailers and activating volunteers in anticipation of additional flooding, with Disaster Response Teams standing by to respond in several locations in the Willamette Valley and the Oregon coast, including:
Lincoln County
Tillamook County
Clatsop County
Columbia County
Washington County
Yamhill County
Polk County
We have contacted the Emergency Mangers in all of these counties, offered our assistance and requested they notify us if they are considering opening their EOCs.
We are sending a Shelter Team to assist with a Red Cross supported shelter in Hood River. This shelter was requested by Hood River Emergency Management due to snow, icy conditions and power outages that have continued in the area for several days.
A Red Cross shelter has been opened across the Columbia River from Hood River in White Salmon at White Salmon Fire Hall, 119 NE Church Street.
We are also standing by with shelter teams if the Nehalem River begins to rise to flood levels in Vernonia.
You can search for Red Cross Shelter sites online at: http://www.redcross.org/nss/
Support the Red Cross
All American Red Cross disaster assistance is free, made possible by voluntary donations of time and money from the American people. You can help people affected by disasters, like the recent storms and flooding, by making a donation to support American Red Cross Disaster Relief. Your gift enables the Red Cross to prepare for and provide shelter, food, emotional support and other assistance in response to disasters.
Contributions may be sent online at http://www.redcross.org, or to your local American Red Cross chapter, or to the American Red Cross, P.O. Box 37243, Washington, DC 20013.
Red Cross needs blood donations…
Severe weather in the state has disrupted blood donations. If you have an appointment to donate blood, don't forget to come by, or if you would like to sign up to donate, go to: http://www.redcrossblood.org/ or call 1-800-RED-CROSS (1-800-733-2767) to schedule an appointment.
Red Cross Safe and Well…
The Oregon Red Cross encourages everyone displaced by flooding, and anyone attempting to locate friends and loved ones, to use the Red Cross Safe and Well site at: https://safeandwell.communityos.org/cms/index.php