Winter Storm Update, Monday January 23, 2012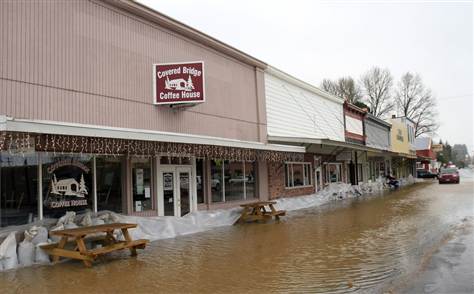 Downtown business are protected from flood waters with sandbags in Scio, Thursday. A new storm system is expected to arrive tomorrow. AP Photo
The American Red Cross is continuing its around-the-clock humanitarian efforts to provide assistance to families and communities impacted by the recent storms. We are preparing for the next round of storms, expected to begin impacting the Oregon coast and Coast Range tomorrow.
We are working closely with emergency managers and local government officials to anticipate where our help may be needed.
Heavy rain and high winds are expected to begin hitting the Oregon coast tomorrow (Tuesday) and could cause a new round of flooding in coastal communities and the Coast Range.
We are also watching for severe winter weather in the Columbia Gorge, where we opened a shelter last week (Hood River).
Nine (9) shelters with teams are on standby and will open if needed. Shelter locations are in Clackamas,Columbia, Tillamook, Clatsop, and Lincoln counties.
Over 100 Red Cross staffers deployed last week through the weekend and many are still in the field.
50 Red Cross sites across the state have been stocked with supplies for immediate response.
The Red Cross Emergency Operations Center has been active since Wednesday afternoon. We are currently assessing potential future needs in the affected areas for supplies and/or shelters.
SUPPORT THE RED CROSS
All American Red Cross disaster assistance is free, made possible by voluntary donations of time and money from the American people.
You can help people affected by disasters, like the recent storms and flooding, by making a donation to support American Red Cross Disaster Relief. Your gift enables the Red Cross to prepare for and provide shelter, food, emotional support and other assistance in response to disasters.
Contributions may be sent to your local American Red Cross chapter or to the American Red Cross, P.O. Box 37243, Washington, DC 20013.
Click here to make a donation.
Red Cross also needs blood donations…
Severe weather in the state has disrupted blood donations. If you have an appointment to donate blood, please don't forget to come by, or if you would like to sign up to donate, go to: http://www.redcrossblood.org/ or call 1-800-RED-CROSS (1-800-733-2767) to schedule an appointment.
RED CROSS SAFE AND WELL
During an emergency, letting your family know that you are safe can bring your loved ones great peace of mind. If you are affected by the flood, register on the Red Cross Safe and Well Website accessible at www.redcross.org.
The Safe and Well Website allows those directly affected by a disaster to let their loved ones know of their well-being.
For those who do not have internet access, call 1-800-RED-CROSS (1-800-733-2767) to register yourself and your family. Follow the prompts for disaster information.
Concerned family members who know the person's phone number (home, cell or work) or a complete home address can search for the messages posted by those who self-register.