American Red Cross, Oregon Region – Winter Storm Update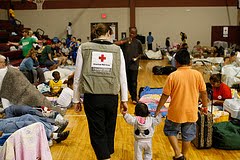 The American Red Cross is working around the clock to provide assistance to families and communities impacted by the recent storms.
Our Emergency Operations Center has been active since Wednesday afternoon. We are currently assessing both ongoing and potential needs, for supplies and/or shelters, in the affected areas. We are continuing to monitor and respond to developing events in flood-prone places this weekend. We currently have over 100 Red Cross volunteers and staff from around the state actively responding, and we have several hundred more volunteers on alert, if needed.
There is new concern in Hood River County, where they have been dealing with icy conditions, power outages and downed trees – we have opened a shelter at WyEast Middle School, 3000 Wy'East Rd.
Four (4) Red Cross shelterswere open overnight: Aumsville; Brookings; Gold Beach; and Mapleton. Red Cross is also providing support for two community shelters: in Allegany; and Salem. We have opened a total of seven shelters during the last 24 hours, which also included Corvallis, Florence and Vernonia.
You can search for current Red Cross Shelter sites online at: http://www.redcross.org/nss/ We are drawing on supplies that were pre-positioned in over 50 locations across the state to conduct these sheltering and relief efforts. We are prepared to provide distribution of clean-up kits, comfort kits and emergency food supplies as needed. In addition to sleeping accommodations, snacks and meals have been provided to shelter residents as well as mental health and medical supplies and assistance as needed. In addition, Red Cross volunteers have responded to disasters where families have been displaced (home fires, flooding, trees falling on homes) in Tillamook, Marion and Wasco Counties. We are providing, free of charge, assistance with lodging, food, clothing, comfort kits, and information about Health and Mental Health services.
Red Cross needs blood donations… Severe weather in the state has disrupted blood donations. If you have an appointment to donate blood, don't forget to come by, or if you would like to sign up to donate, go to: http://www.redcrossblood.org/ or call 1-800-RED-CROSS (1-800-733-2767) to schedule an appointment.
Red Cross Safe and Well… The Oregon Red Cross encourages everyone displaced by weather, and anyone attempting to locate friends and loved ones, to use the Red Cross Safe and Well site at: https://safeandwell.communityos.org/cms/index.php
You can help people affected by disasters like the recent storms and flooding as well as countless crises at home and around the world, by making a donation to support American Red Cross Disaster Relief. Your gift enables the Red cross to prepare for and provide shelter, food, emotional support and other assistance in response to disasters. Visit www.oregonredcross.org or call (503) 528-5659. Contributions may also be sent to your local American Red Cross chapter or to the American Red Cross, P.O. Box 37243, Washington, DC 20013.
All American Red Cross disaster assistance is free, made possible by voluntary donations of time and money from the American people.
Click here to make a donation.