New Tsunami Inundation Maps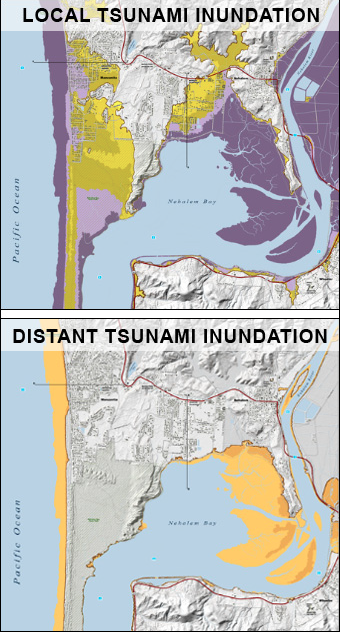 This week the Oregon Department of Geology and Mineral Industries released three new tsunami inundation maps.
The three Oregon coast maps are for:
What I found great about these second-generation tsunami inundation series maps is that they show both 'Local' and 'Distant' tsunami inundation. The 'local' model is if the area was hit by a tsunami produced by the Cascadia Subduction Zone, which could be much larger with only minutes of warning to coastal residents. The 'distant' model is if the tsunami source is farther away, in this case the Alaska-Aleutian Subduction Zone (however we can extrapolate it for other distant sourced tsunamis, like a strong one coming from Japan). By having both models it helps show the strength and potential for a locally sourced tsunami, emphasizing the importance of tsunami preparedness to both coastal residents and visitors.
You can find out more information about the new releases in this press release, and can visit the Department of Geology and Mineral Industries website to see these maps and all other Oregon Coast tsunami inundation maps as well as evacuation maps.