'Space' for more preparedness!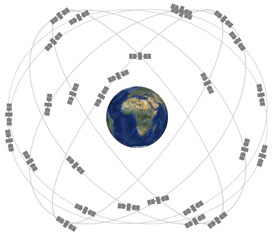 Apparently there is space for more preparedness, thanks to a new program NASA is leading. For the West Coast, they are working on developing the Real-time Earthquake Analysis for Disaster (READI) Mitigation Network. The network will consist of nearly 500 ground based GPS monitoring stations located in California, Oregon, and Washington.
Similar to a car GPS, the stations use a grid of satellites in space to determine location. In the case of an earthquake, knowing the precise location of these fixed sites allows any movement to be detected and measured. A large grid of stations can determine the source location of the quake and the magnitude, similar to existing seismograph technology but with the potential for far quicker and more accurate information. In the case of an earthquake, every moment of early warning is critical for disaster response and mitigation efforts, especially with the potential for a tsunami.
NASA, NSF, USGS, and other federal, state, and local partners support the GPS stations in the network, including the EarthScope Plate Boundary Observatory, the Pacific Northwest Geodetic Array, the Bay Area Regional Deformation Array and the California Real-Time Network.
Photo: US Coast Guard/ GPS.gov