The "Waffle Window" of Opportunity to Help Save Lives
Present to Donate Blood with the Red Cross This Saturday and Get a Free $5 Gift Card to The Waffle Window! Click Here To Sign Up!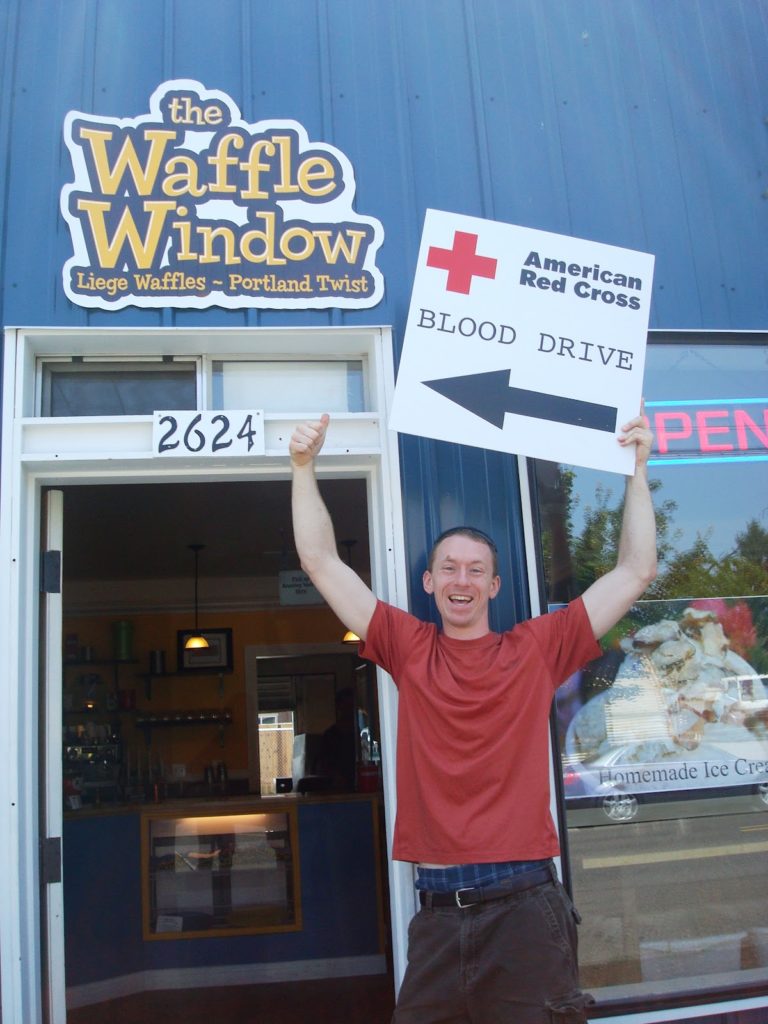 The Red Cross and The Waffle Window (of Portlandia fame) are teaming up for blood drives at The Waffle Window's two locations on Saturday, August 11, 2012. Both events will be held from 9 AM to 2 PM at Waffle Window locations at 3610 SE Hawthorne Boulevard and at their new location in the Alberta Arts District at 2624 NE Alberta Street. All presenting blood donors will be offered a free $5 gift card for delicious waffle delicacies…a deal that can cover any item on the menu, where all items are priced $5 or less!
Mary O'Rourke, co-owner of The Waffle Window with her sons Maxwell and Brendan Fishback (pictured in post) said, "The Waffle Window is committed to being a venue for making a difference in the lives of the people from whom we draw so much support." She continues, "Both the Hawthorne and Alberta Neighborhoods are such strong and passionate communities, this is a great way to reach to out to them and hopefully find new blood donors and make giving blood a super fun experience!"
With the summer months at hand, attendance at blood drives can decrease. Every day, including holidays, the Red Cross supplies potentially lifesaving blood to patients in need. Blood donations collected at these drives will help boost the blood supply during the summer season, a time when blood donations typically decline due to the weather, family vacations and other factors.
With The Waffle Window receiving over 250 five-star reviews on Yelp.com, what better way to savor what Unique Eats on The Cooking Channel is calling "fantastic street food." Learn more at wafflewindow.com and to participate in the drive, here's how it works:
1. Call 1-800-RED CROSS to register as a blood donor for the "Waffle Window" blood drive on August 11, 2012. Donor appointments are not required, but are preferred. (Be sure to mention which location, either Hawthorne or Alberta).
2. All interested participants can also register online by visiting redcrossblood.org. Please use the sponsor code "WaffleWindow" to register on the Internet.
Blood donors must be at least 16 years old (16 year-olds require a signed Red Cross parental consent form) and meet minimum height and weight requirements.