Civil War Blood Drive concluding with record breaking potential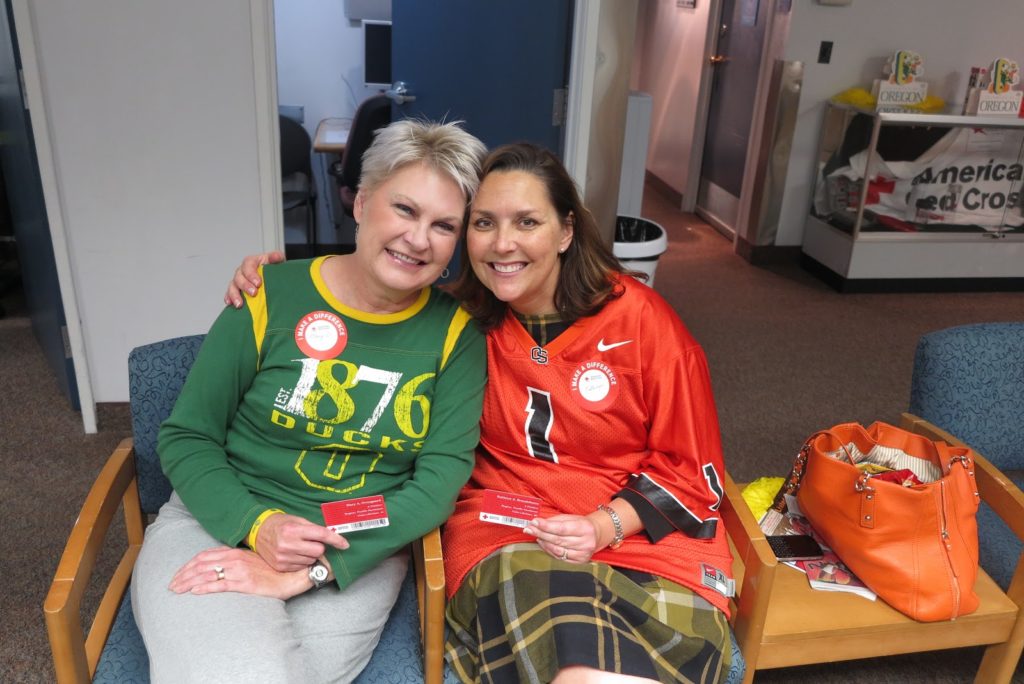 Mary Overgaard (right) and Kathy Brandeberry (left) Photo
by Daphne Mathew
The Civil War football
rivalry is steadily approaching as fans anticipate the bowl game fates of their
supported programs. Despite the hours spent sunk into our couches, eyes locked
on the big games each Saturday, many have still risen to the challenge of
supporting a cause much bigger than college football. Blood donations in
November have been contributing to the relief efforts from Hurricane Sandy, and
in the nature of healthy competition, putting up big numbers to help their
schools and many others.
The 11th annual
CWBD has already surpassed the 2011 total of 6,586 donations, coming into
Friday with an incredible 7,806 counted. Saturday (November 17) is the last day
to donate blood, so take some time out of your day to come in to donate and
cast your vote. The success of this year's drive is exciting, but the record
total of 8,385 set in 2010 is within reach. Why not try and help make this year
the most successful CWBD ever?
Both teams still have a shot
at taking the winners' trophy and as history has shown, there is always a
chance for a comeback victory. The Beavers are currently trailing, with 3,640
donations tallied thus far, while the Ducks have 4,166. Despite the obvious margin,
the Beavers have reigned supreme in 7 out of the past 10 Civil War Blood
Drives, but the Ducks have raised the trophy for the last two years.
Finishing strong is a
win-win situation as the need for blood is constant. Winning a fun competition
is rewarding (especially in a rivalry) but at the end of the day everyone is
fighting for the same cause. Make your appointment to donate blood today at
civilwarblooddrive.com and help the drive finish strong.