Civil War Blood Drive is in Full Effect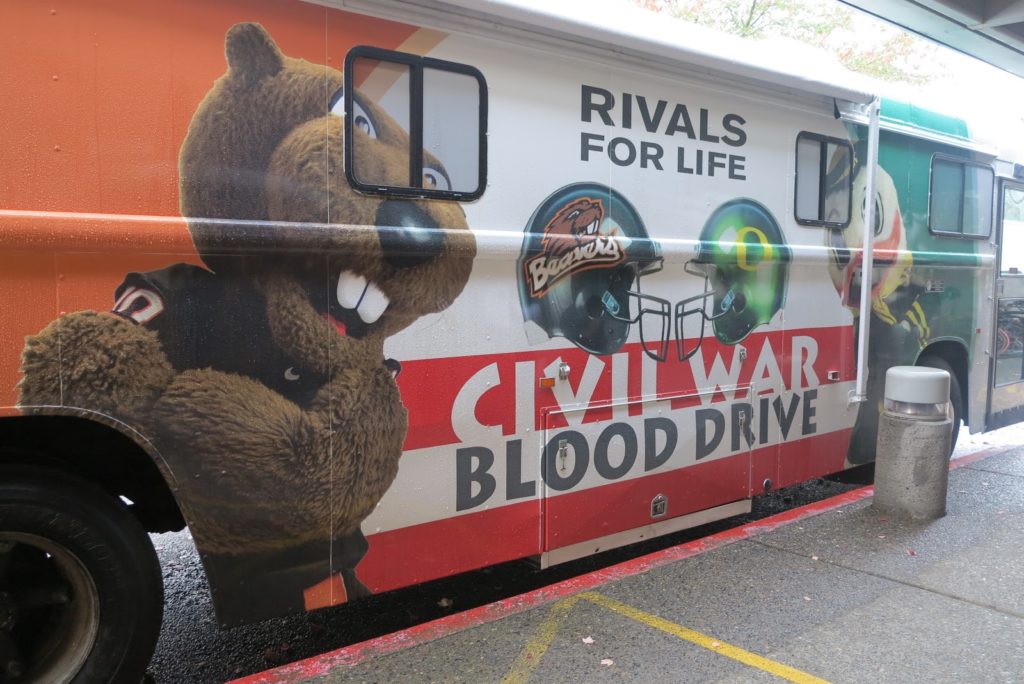 Only six
days into the Civil War Blood Drive and over 2,400 people have cast their
ballots. For some, the sweet taste of victory can only be felt by winning the
Civil War football game on November 24, but having a trophy to raise high in
the name of blood donation will also be gratifying. Much credit is due to the
Ducks faithful as they are only down by 128 votes, having already tallied 1,139
donations. Beaver believers have pulled in 1,267 donations, and have the advantage,
at least for the time being.
In the good
nature of a fair competition and an overall need that trumps "winning" the
drive, the UO and OSU campuses are holding their blood drives on days that
don't conflict with one another. Oregon State has the campus blood drives
occurring now through November 9 at the Memorial Union Ballroom
from 11 AM-4 PM. The Ducks begin their campus donation mission on November 12,
spanning until November 16 in the Erb Memorial Union from 10 AM-4
PM. The staggered schedules are a smart move, but both teams will need step up
their game to beat last year's total of 6,586 votes, which represent
blood donations that went to help hospital patients. Fans of either team
can schedule a donation all across Oregon and vote for their team, visit civilwarblooddrive.com to
sign up for your appointment and bring good karma to your team on game day.
All of the
preparation for the 17-day campaign has not gone unnoticed and linked is some
much deserved coverage for the kickoff event, featuring some familiar faces.