Stand Clear … Charging … Shocking!
Dear
Friends,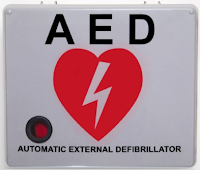 My
name is Julie and I am the communications specialist at the Oregon Red Cross.
If you've ever looked at the top of this screen, you'll notice that
it says, "Disaster Proof, Fire Safe and Updated (Almost) Daily."
If you happen to then look down
the screen, you'll notice we have a loose definition of "almost."
Having recently completed my
First Aid/CPR/AED training
, I'm ready
to perform some life-saving techniques to bring this blog back to life.
And with the help of our
talented staff and incredible volunteers, we hope this blog will serve as a
forum to laugh, learn and educate. If you have any suggestions for content,
please contact me at
julie.miller@redcross.org.
Sincerely,
Julie