Contest: A blast from the past!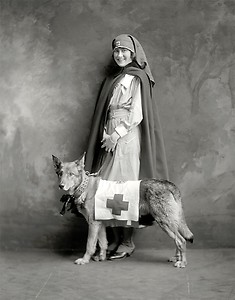 When doing a quick search on eBay for "vintage Red Cross" I found this lovely image titled "1917 Nurse with Dog"
As an organization that's been around since 1881, that tiny red cross has imprinted its way onto countless pins, cups, shirts, napkins, flasks – you name it, it's probably been there. To explore the Red Cross's rich history during Red Cross Month, we thought it would be fun to ask our readers, "who has the oldest or most unusual Red Cross relic from the past?" A lapel pin you inherited from your great grandmother, a vintage nurse's outfit your kids use for Halloween, the tie-dye Red Cross T-shirt from the 60's? If you think you have something to share, please e-mail me @ julie.miller@redcross.org. You need to include 1. what it is, 2. how it came into your possession, and 3. an image I can post online.
At the end of the month, we will announce the winner and post the top historic finds. The winner will receive a Red Cross goodie bag full of not-so-vintage Red Cross swag. Happy hunting!