I've Got a Golden Ticket!
In Roald Dahl's classic book, Charlie and the Chocolate Factory, Willy Wonka hides a Golden Ticket in five chocolate bars which are distributed worldwide. Charlie finds one of these golden tickets and wins passage into Willy Wonka's factory and a lifetime supply of confections. Guess what? We've got some Golden Tickets of our very own.
Now, our Golden Ticket holder won't mingle with Oompa Loompas, cruise down a chocolate river, or chew experimental gum. However, our lucky Golden Ticket holder will have an opportunity to view South African wildlife, cruise down the Willamette River on a luxurious sailboat, and have enough food and drink to keep them full for a year.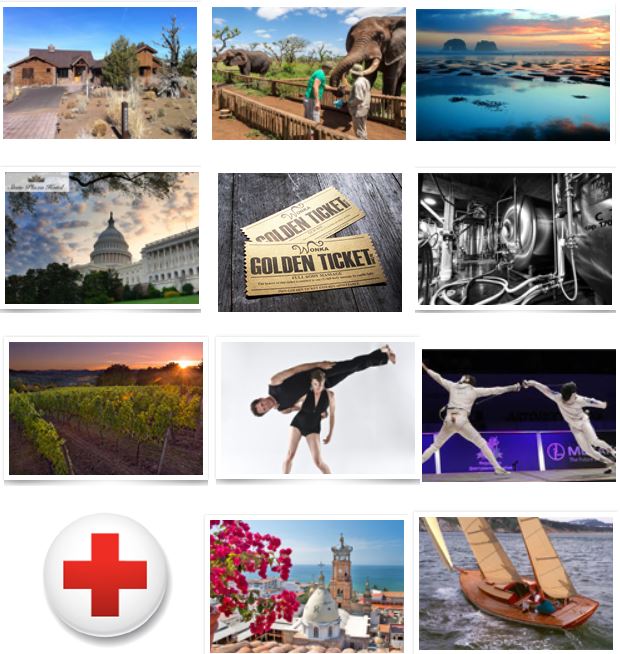 These icons represent the auction packages available.
Our Golden Tickets are being sold as part of our upcoming fundraiser, Surviving in Style, which takes place Thursday, April 18 at Pure Space in Portland. For our friends who can't attend, Golden Tickets are a wonderful opportunity to join in the fun and try your hand at winning one of our celebrity-inspired auction prizes valued at thousands of dollars. We are selling a limited number of Golden Tickets (75 total) at $100 each, and they can be purchased here.
Be sure to view our ten auction packages that include a behind-the-vine winery tour, an African safari, gift certificates the area's best restaurants, tickets to cultural hotspots and much, much more. But what if you pay $100 and don't win? Then you've made an incredible donation to the American Red Cross for which we are very grateful.
Best of luck!