Red Cross Day at the State Capitol
by Kim Elizabeth Manning, Red Cross volunteer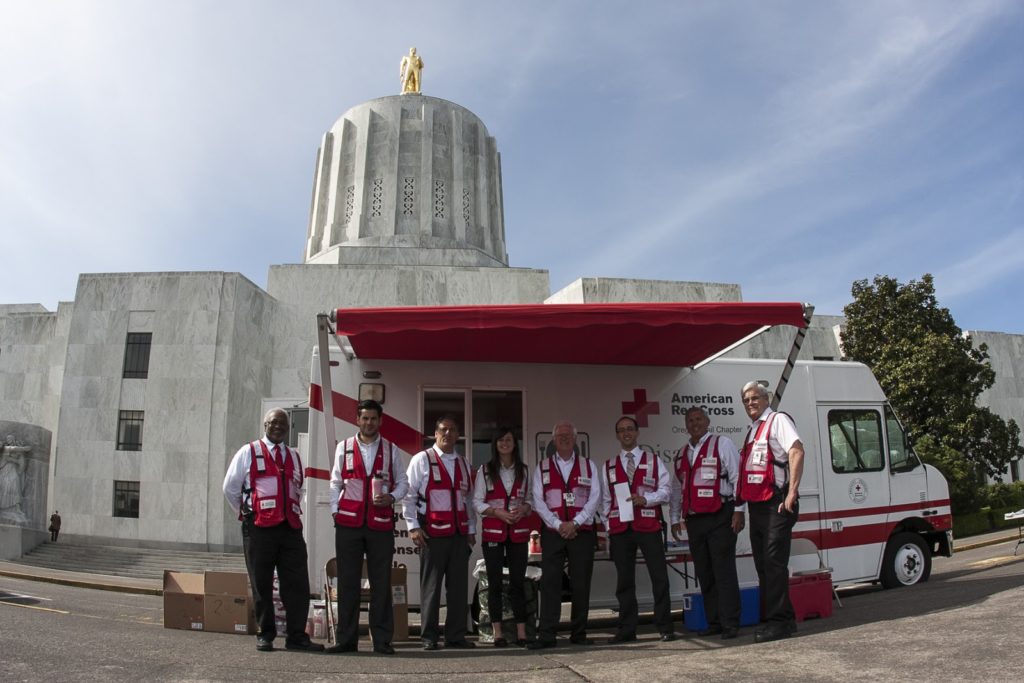 Ready to serve!
Upon approaching the Oregon State Capitol Building on Thursday, April 25, it was obvious that the Red Cross was up to something. On this sunny morning, two Red Cross emergency response vehicles – a mobile feeding truck and a mobile kitchen – offered coffee and snacks to members of the legislature and visitors as they entered the Capitol building. A few people thought that maybe the building was experiencing an emergency situation. Thankfully, no. Some thought we were hosting a blood drive. No, not today. Others didn't even notice us. Until … we approached them.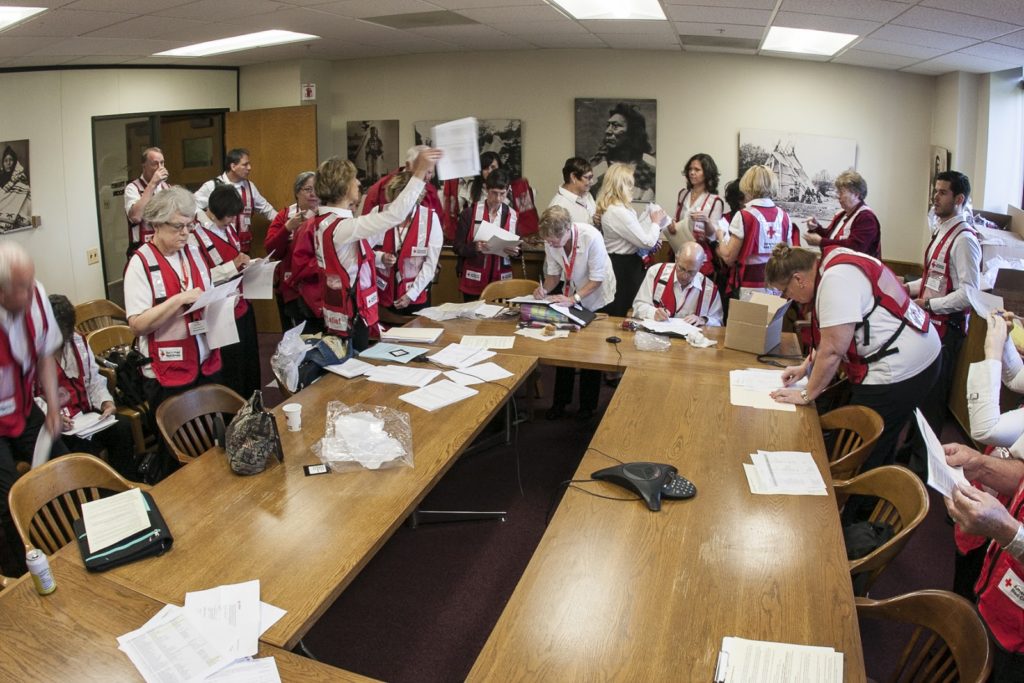 Prepping for our meetings
In teams of two, nearly 60 volunteers and staff members of Red Cross chapters throughout the state met personally with 70 state legislators – often their own representatives and senators – to talk about the American Red Cross in Oregon and the services we provide to their constituents. We explained how we help, train, and support the people in their districts.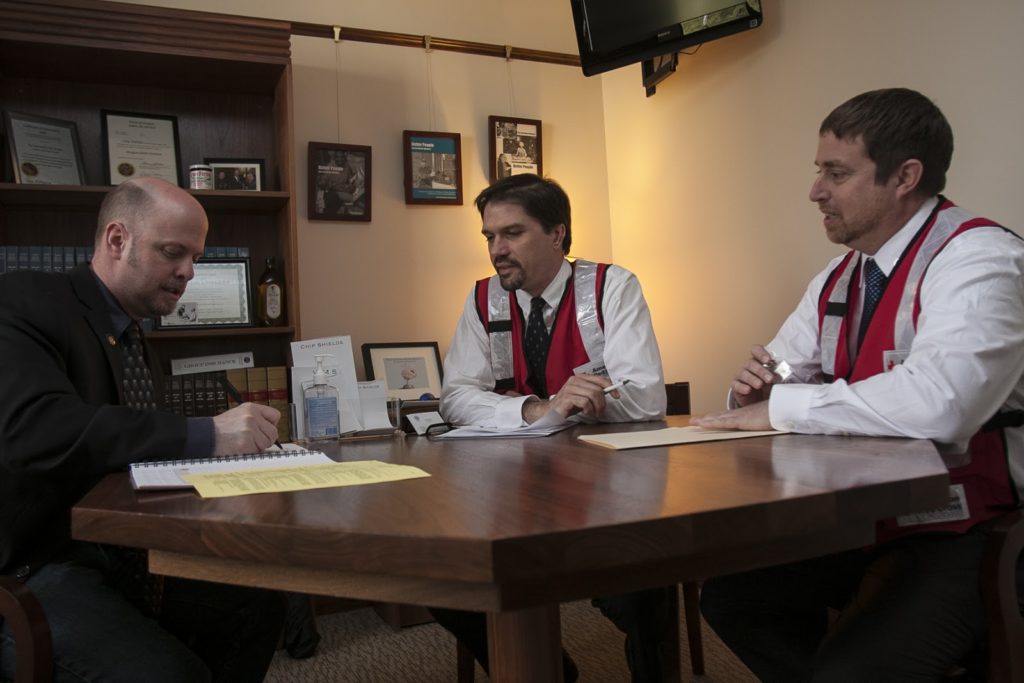 Steve Eberlein (center) and Vince Aarts meet with Sen. Chip Shields.
We talked up our new multi-year initiative called Get Ready! Its goal is to directly increase the emergency and disaster preparedness as well as the resilience of Oregonians for major disasters, such as the Big One that many don't want to talk about because it's too scary to even think about. We also let them know that we support the Oregon Seismic Safety Policy Advisory Committee (OSSPAC) in the Oregon Resilience Plan and how they can help strengthen the plan by addressing the other half of resiliency – the citizen component. We asked them to step up to include developing a preparedness curriculum for K-12, conducting statewide public drills, and requiring individual preparedness for local and state government employees and their families.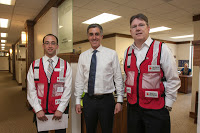 Nathan Keffer (left) and Tod Thayer meet with Sen. Chris Edwards.
At the end of our 15-minute meeting, we asked our representatives and senators for two things:
· Commit to putting together a personal/family disaster preparedness kit and evacuation plan, and
· Communicate the importance of preparedness and community resiliency a priority while they are in office.
A few of the state legislators took our message of emergency and disaster preparedness right to the Senate or House floor, sharing it with their colleagues. While a few had disaster kits and evacuation plans, many did not, and told us that they were glad we met with them to remind them to do it. Some offered to post links on their websites. One encouraged us to present at his town hall meetings. Another expressed interest in joining one of the chapter board of directors. What an awesome day for the American Red Cross in Oregon!
In the building's West Galleria, Red Crossers interacted with people of all ages who were visiting the Capitol – discussing emergency and disaster preparedness; promoting and showing off our Red Cross apps, specifically our First Aid app; and demonstrating hands-only CPR.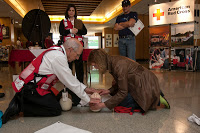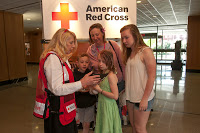 Left: Steve Sirkin demos CPR to Capitol visitor.Right: Karyn Johnson-Dagenais demonstrates how to download Red Cross apps to the Saunders family.
As a disaster relief volunteer, financial supporter, blood donor and blood services volunteer who is also trained in CPR and First Aid – all for which I am most proud – I was honored to participate in Red Cross Day at the Oregon State Capitol. What a lovely way to honor our state's Red Cross volunteers this week, National Volunteer Week, by giving us the opportunity to serve as citizen lobbyists.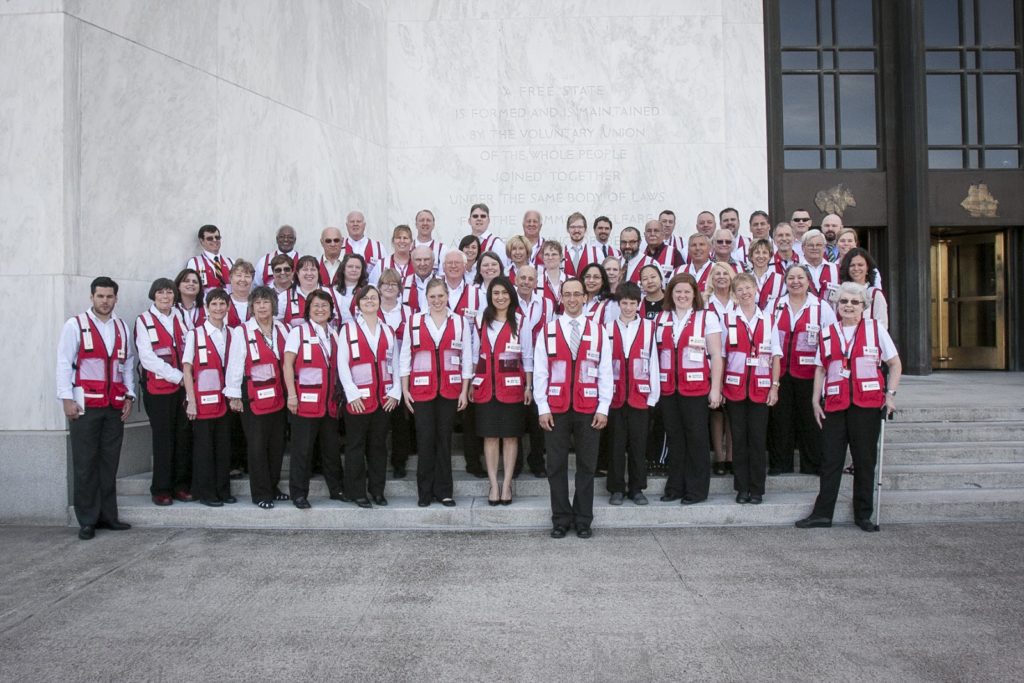 Using teamwork – and red vests – to make our mark at the state capitol!
Special thanks to Red Cross volunteer David O'Conner for capturing the day in photos!