On Tuesday, June 25, the Oregon Trail Chapter recognized some of our amazing community partners and individuals during our annual meeting. We would like to thank everyone who attended this special event and extend another round of thanks to all of our award winners.
Those recognized at the event included:
Board Leadership Awards
Rookie of the Year
Karen Gilmore
High Roller
Cobi Jackson
Most Valuable Player
Andrew Saxton
2013 Full Circle Partner Award
NW Natural
Continuing Full Circle Partners
Boeing
Columbia Sportswear Company
ESI
FLIR
Fred Meyer
Intel
Regence
Tektronix
US Bank
Wells Fargo
Ellen G. Shelton Philanthropist of the Year Awards
Loren Parks
Bill & Cindy Rainey
Corporate Philanthropist of the Year Awards
The Heathman Hotel
Tektronix
Junior Philanthropist of the Year Award
Madison Alexander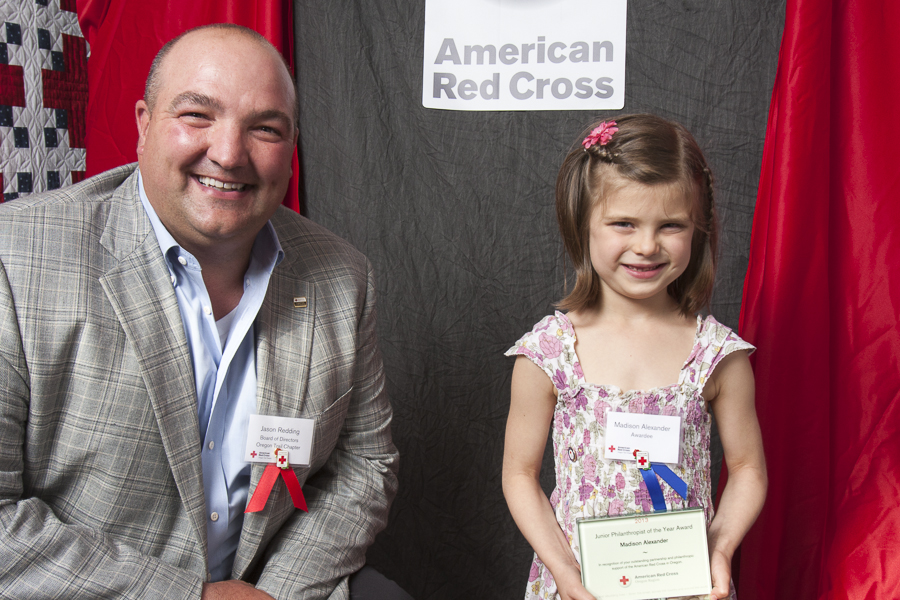 Red Cross Chair Jason Redding awards Madison Alexander
Superstorm Sandy Awards
Community Fundraiser
Buddhatham Aram
Corporate Partners
Intel Foundation
Columbia Sportswear Company
KEEN Footwear
Outstanding Partner in Preparedness
Oregon Head Start
Community Partner of the Year Award
Legacy Ford
Media Partner of the Year Award
KATU Channel 2
To see photos from the event taken by photographer David O'Connor, click here.