A Day of Deployment with the American Red Cross
As director of communications for the Cascades Region (Oregon and SW Washington), I went on my first disaster deployment last month. I received a call on the day before Father's Day and before I knew it, I was on a plane to Denver to assist with public affairs for the blazing wildfires in the south and southwestern part of the state. It as a wonderful experience – getting an up close and personal look at Red Cross disaster relief operations, working side-by-side with a wide range of people with varying experience and skills, and having the opportunity to comfort first-hand those who were affected by the devastating events. Here's how we spent one of the last days on the operation, in small, historic mining towns between Alamosa and Durango.
Red Cross to the Rescue as Evacuees Return Home
Story and Photos by Paula Negele and Patricia Kemp
It was a mix of elation and anxiety for residents of South Fork,
Colorado, when the evacuation order from the West Fork Complex fire was
lifted June 28. People returned home after more than a week at area
motels, friends' houses, and the Red Cross shelter at Del Norte High
School.
Although they knew all the community structures and homes were
intact, they didn't know the condition of their property or if they
could weather the heavy smoke settling in the valley from the 80,000
acre wildfire.
To ease their transition, the Red Cross set up two bulk distribution
centers, one in South Fork and one in Creede, and offered clean-up
supplies, rakes and shovels, water and snacks, and access to emotional
health resources. More than the items themselves, residents' spirits
were buoyed by the friendly smiles and caring attitude of Red Cross
volunteers who staffed the two stations.

They came from newly reopened Highways 160 and 149, points in between
and beyond, to pick up more than 400 kits distributed by the Red Cross.
South Fork, Co., resident Karla Roquemore
and Red Cross volunteer Joe Baker.
For the first time in over a week, Karla Roquemore could breathe a little easier.
"Red Cross is a breath of fresh air," said Karla who came for a face
mask. She got that and more in the clean-up kit, handed to her by Red
Cross volunteer Joseph Baker in South Fork.
In the historic mining town of Creede, tourists were chased away by
the fires burning deep in the forest. Local business owners lamented the
lack of commerce; nonetheless, beaming smiles, positive attitudes and
outstretched hands from Maddy Christman and Kip Nagy of Kip's Grill
welcomed firefighters and Red Crossers, urging all to return to the
charming mountain town.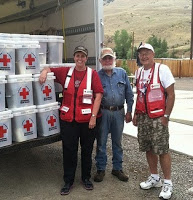 Creede resident Buck Sneed (center)
learns about Red Cross services from
volunteers Karen Talbott and Larry Martin.
Down the street, the Chamber of Commerce stepped up to partner with
the Red Cross, providing their Main Street location as a distribution
point for the clean-up kits. The site became a jovial meeting place for
community members, like Buck Sneed, who received a kit and clean-up tips
from volunteers.
Catherine Kim (left), chamber manager in Creede, Co., welcomed
Red Crossers to set up clean-up kit distribution for residents.
The wildfires continue to burn and ash will linger for some time, but
residents found the Red Cross presence in their community a beam of
hope that cut through the thickest smoke.
Singrid Baugh shares her gratitude to Bill Werner, Red Cross emergency
manager at the Red Cross shelter in Del Norte, Co.
The Red Cross relief response was summed up by, South Fork resident
Singrid Baugh as she departed the shelter in Del Norte: "This is my
first time receiving services from the Red Cross. I'm just totally
impressed; you guys are doing a great job! Sending a donation is one of
the first things I'm going to do when I get home."