Volunteer profile: Jeff Anderson – Manning the emergency desk
Our Volunteer Profile
series, written by communications volunteer Patrick Wilson, offers a weekly
glimpse at some of the incredible people who help to deliver our mission. We are
grateful for their compassion and commitment
Jeff Anderson joined the Red Cross in October 2005,
just after Hurricane Katrina. Because of significant sight impediments, Jeff
had difficulty finding regular employment, but he wanted to remain active and
productive. The Red Cross seemed like an ideal choice. He was attracted by the
organization's national reputation and the level of respect the Red Cross
receives.
Jeff's first
assignment was to assist the volunteer coordinator. He did this for five years.
He is now a regional duty officer two days each week, dispatching Red Cross
volunteers to emergency calls coming into the emergency response help desk. In
both assignments, Jeff says he's been impressed by the volunteers and staff,
finding them helpful and personable. He enjoys the "family-like atmosphere."
Working at the help
desk requires quick thinking and a critical analysis of the situation to
determine the needed action. Jeff often has to manage conversations with people
facing intense situations. He has to take in all the information and emotions,
and sort out the most critical facts.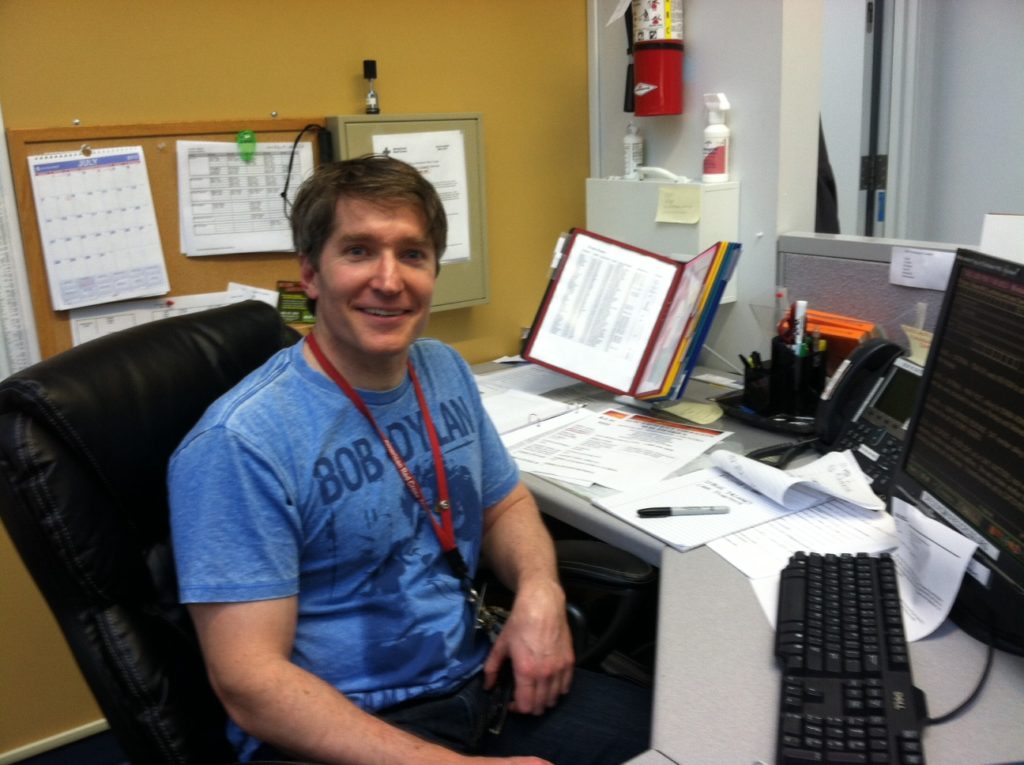 Working the help
desk doesn't mean handling a nonstop barrage of critical calls. It's more about
handling emergencies when they do occur. In order to determine what is
happening in the community that could become an emergency call, staff members monitor
the local police scanner in the office. While this involves listening to
ongoing chatter, the volume and intensity rises when it becomes clear that an
emergency is imminent. The duty officer does not swing into action until a call
is received from a 911 dispatcher, a fire marshall or from the person
experiencing the emergency. However, in the latter case, the emergency has to
be verified before a response team can be dispatched.
When Red Cross
assistance is needed, Jeff works to raise a Disaster Assistance Team (a DAT),
ideally a captain and one or two other responders. The target is to have people
on site within an hour of receiving the call. This becomes more practical if
volunteers can be located close by the emergency. In addition to securing a DAT
team, it's sometimes necessary to raise a chaplain or a Red Cross mental health
volunteer in the case of serious injury or death. A health services volunteer
may be needed if people have lost critical medications.
If people are
not going to be able to immediately move back into their homes, Red Cross
provides local accommodations, food and basic clothing. With a larger group, an
emergency shelter may need to be opened and managed around the clock by Red
Cross volunteers for as long as the shelter is in use. A dining facility may
also be necessary. Some disaster clients move in with family or friends, but a
shelter must be available, especially in remote locations.
Because of Jeff's
sight difficulties, handling emergency requests and recording the incidents can be
difficult. Using a map to identify how close local hotels are to individuals in
need is not easy. Some computer programs allow for the font size to be
increased but many do not. Sometimes people needing assistance can be impatient
until they realize Jeff is struggling with sight problems. He knows it would be easier to just stay home and avoid the struggles
and periodic embarrassment, but he would rather be productive and contributing
to the community by being a Red Cross volunteer.