Meet the Oregon Pacific Chapter's New Executive Director
Meghan O'Hara recently joined the Oregon Pacific Chapter of the Red Cross as its new executive director. To get to know her, we asked Meghan a few questions.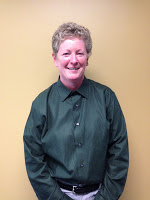 Q: How long have you been part of the Red Cross and why did you get involved?
A: I've been with the Red Cross for almost seven years, and worked at PBS for more than 15 years before joining the Red Cross. When I was thinking about leaving PBS, I wanted to make sure I was with another nonprofit that has the same high principles, is committed to serving the community and has awesome volunteers. The Red Cross fits that bill, and then some!
Q: Why did you decide to leave D.C. and move to Eugene?
A: I wanted to work with a local community again. I've been at the national headquarters in Washington, D.C., for my entire Red Cross career and missed a local connection. While with PBS, I worked at several neighborhood PBS stations across the country and really enjoyed working with local donors and volunteers. I have friends who live in the Portland and Seattle areas and visited the past couple of years, and fell in love with this area.
Q: What are you most looking forward to about the new gig?
A: Leaning about the Pacific Northwest and the state of Oregon. Also learning more about the counties that Oregon Pacific Chapter serves, and finding out what more we can do to help people prepare for the next disaster.
Q: What are you going to miss about D.C.?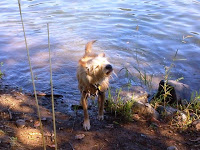 Meghan's dog Cody dries off after a
refreshing swim after a day of exploring.
A: Well, it certainly won't be the traffic! I will miss my colleagues and working with national donors who were so generous when a large disaster happened in the US. I developed terrific working relationships with some of those donors and will miss the interaction with them. However, I look forward to developing new partnerships with folks here in this area!
Q: Anything else about you we should know?
A; In the four weeks that I've been here I've been doing a lot of exploring of the area, and taking my dog with me on all of those little adventures.
Thank you, Meghan! We're thrilled to have Meghan as part of our Eugene-based team and look forwarding to hearing more about her work throughout the year.