Creating a State of Preparedness
On Wednesday, Sept. 4, more than 40 people from across the country met at a conference center in Turner, Ore. to learn about their new assignments in AmeriCorps, a national program designed to engage people in intensive community service work with the goal of "helping others and meeting critical needs in the community." On the second day of this training, Red Cross Cascades Region Director of Emergency Preparedness Francisco Ianni discussed one of these critical needs – preparing communities for the next major disaster.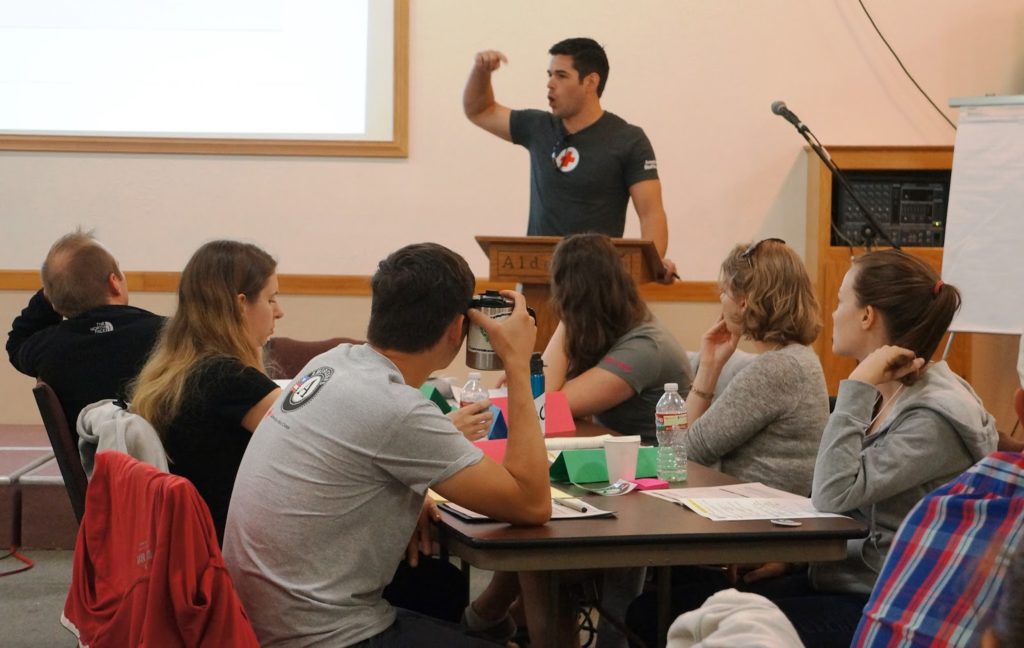 Francisco Ianni talks about the disaster threats facing Oregon and highlights the lack of overall preparedness
Just four days into National Preparedness Month, Francisco spent the morning talking about major disaster risks such as the Cascadia Subduction Zone and the number of house fires Red Cross volunteers respond to each week. When asked if they had ever personally experienced an earthquake, a person from Alaska shared memories of ducking under desks in grade school, while a California transplant said while she experienced nearly weekly tremors at her home, her school did little to educate students on earthquake safety.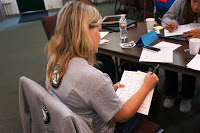 Emily Johnson takes her pre-preparedness
test to find out what she already knows about
disaster preparedness.
Although not all new members could attend the orientation, there will be 63 AmeriCorps members in Oregon, five of which will serve their year at Red Cross community chapters. Other members will carry out a wide range of jobs such as helping homeless youth and facilitating community gardening. However, a special component of this years' service program is that all 63 members are required to commit 10 percent of their time on disaster activity projects, such as delivering preparedness presentations and organizing earthquake drills.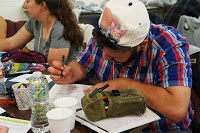 Levi Johnson, an AmeriCorps member who
will work at the Red Cross, seems
to pass his post-test with flying colors
According to Francisco, only 3 percent of Oregonians are considered first responders, meaning that in a major disaster, 3 percent of the population will need to take care of the remaining 97 percent of our population. Francisco wants to change that, and he wants AmeriCorps members to become preparedness leaders within their communities. At the end of the service year, he is confident that these individuals will make a real difference in the communities and leave a preparedness footprint in their paths.
If you want to learn more about the AmeriCorps program or find out how to schedule a free preparedness presentation to celebrate National Preparedness Month, we encourage you to visit our website at
www.redcross.org/cacades
.