Reaching Out to the Community
Last week our local volunteer Cindy Ward set up a Red Cross outreach booth at the IBM employee charitable contribution campaign kickoff event. Do you have what it takes to run a Red Cross booth and share life-saving preparedness tips to the community? Read about Cindy's experience.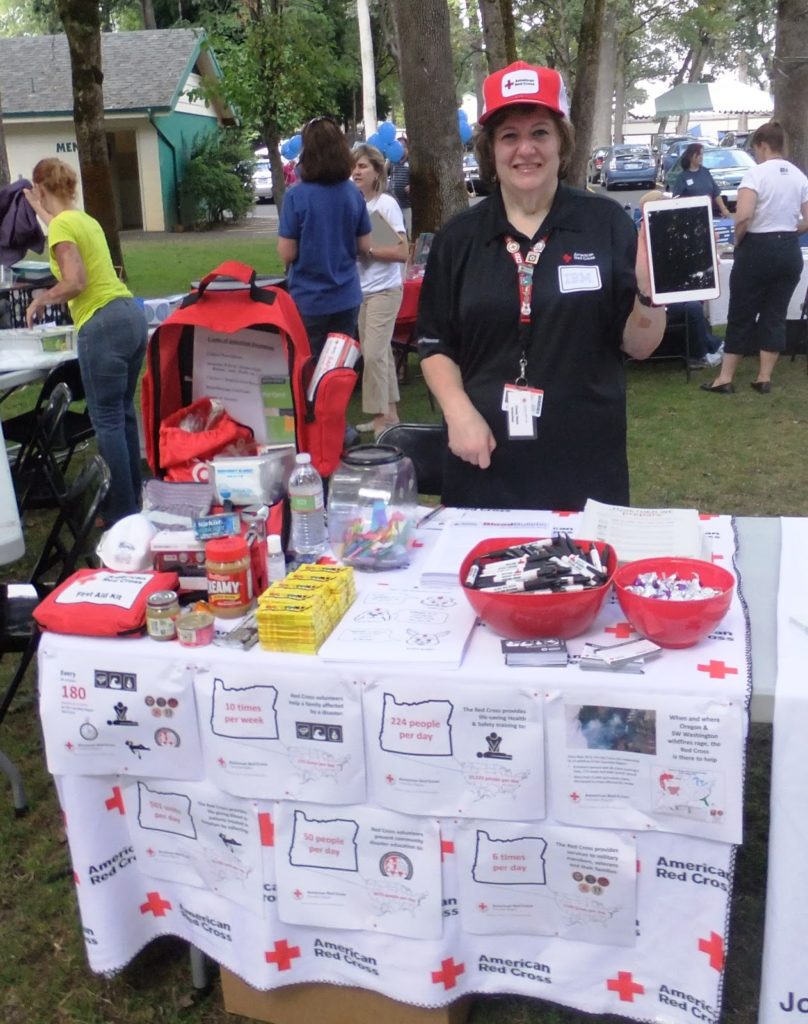 Armed with a Red Cross iPad, Cindy shows visitors the easy-to-use Red Cross mobile apps.
I was a little nervous as I walked to the event area at 2 p.m. on a warm August afternoon. I had never led an outreach by myself before, and this one had an estimated overall attendance of 1,500 people! Thankfully my husband, an IBM employee, was there to help me set up and calm my nerves a bit. In the distance, I could hear the delighted screams of children on the various rides at Oaks Amusement Park, but the area of the picnic site devoted to agency tables was deserted except for a few people performing last-minute set-up activities. Other agencies in attendance ranged from law enforcement to the Autism Society of Oregon to Pacific Pug Rescue.
I chose a shaded table on the end of a row. I put a Red Cross blanket on my half of the 4'x8' table, opened a sample disaster kit, and arranged the contents for the maximum visibility in the smallest possible amount of space. I laid out business cards, emergency contact cards, and a few stacks of literature. To try to stand out from the crowd of other agencies, I also displayed a bowl of Hershey's Kisses, a bowl of Red Cross pens, and a small carton containing 100 4-crayon boxes.
The first attendees arrived five minutes ahead of schedule, at 2:55 p.m. There were a few lulls in the action, but for the most part the three hours of the event passed quickly in a busy blur. Word seemed to get out fast that my table contained both chocolate and crayons, and a wide variety of people, from pre-school children to senior citizens, came by to learn more about the Red Cross and emergency preparedness. I offered a "Together We Prepare" brochure and a blood donation flyer to every adult who came within earshot. I also asked passers-by if they had smartphones; if they said "yes," I exclaimed "The Red Cross has apps!" Then I used the iPad mini I'd borrowed from the Red Cross to demonstrate the seven Red Cross applications that can be downloaded for free on Apple and Android mobile platforms.
I gave out about 50 boxes of crayons, and from that I estimated the actual attendance at 200 people. During the event I was also able to network with several people and by the end of the day, an IBM employee made plans to set up a blood drive. Thus I consider this event to have been a great success!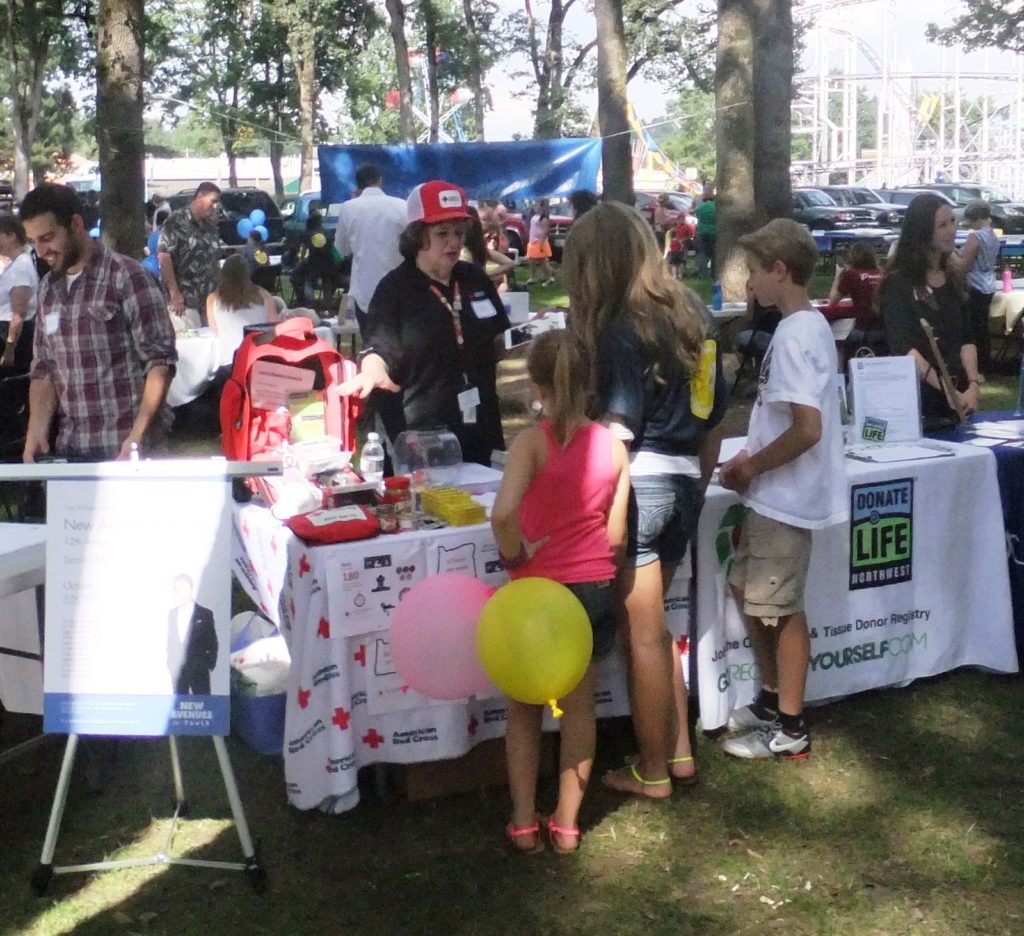 Cindy offers tips on preparedness to help locals know what to do before, during and after a disaster.
Thank you Cindy for volunteering for the Red Cross and sharing your experience! If you would like to volunteer for the Red Cross and learn how to host similar events, please visit www.redcross.org/cascades.