NW Natural's Get Ready! Events Increase Preparedness Statewide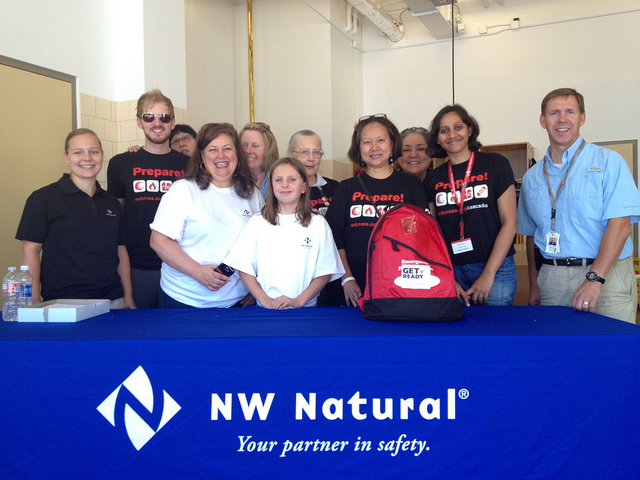 Red Cross and NW Natural staff member and volunteers
working at the Get Ready! events at Portland Fire & Rescue on Sept. 7.
For the second year in a row, the Cascades Region of the American Red Cross has partnered with NW Natural to host a series of ten "Get Ready!" events. These events are free to the public, and include: safety demonstrations, kids' activities, preparedness materials, food and free Red Cross emergency kits to the first 100 families at each event.
"NW Natural has been an amazing partner over the years and these events are a testament of their continued support," says Maree Wacker, CEO of the Red Cross Cascades Region. "National Preparedness Month is the perfect time to get prepared, and these events provide a fun, family-friendly way to do so."
In conjunction with these events, NW Natural donated $18,000 from its corporate philanthropy fund to disaster preparedness, and on Sept. 11, the company announced an additional $35,000 to support the Red Cross over the next three years.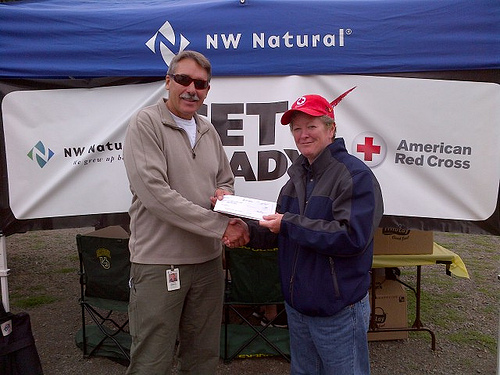 Kip Much, community affairs manager at NW Natural
presents Oregon Mountain River Chapter's Executive Director
Meghan O'Hara a check to support community preparedness.
"We couldn't be more thankful of this tremendous gift," Maree said. "This will allow us to increase community resiliency year-round and help us respond to local disasters."
Upcoming Events:
September 14
Get Ready Vernonia | 11 a.m. to 1 p.m. | Saturday, Sept. 14 | Vernonia High School, 1000 Missouri Ave., Vernonia
Get Ready North Coast | 11 a.m. to 1 p.m. | Saturday, Sept. 14 | Camp Rilea, Warrenton
Get Ready Hood River | 10 a.m. to 2 p.m. | Saturday, Sept. 14 | Hood River Fire Dept., 1785 Meyer Parkway, Hood River
September 28
Get Ready Lincoln County | 11 a.m. to 2 p.m. | Saturday, Sept. 28 | Oregon National Guard Armory, 541 SW Coast Hwy., Newport
Get Ready The Dalles | 10 a.m. to 2 p.m. | Saturday, Sept. 28 | Water's Edge, 551 Lonepine Blvd., The Dalles
To view photos from the event, check out our
Flick page
!