Julie Burger: Long time volunteer is involved in many elements of the Red Cross
Red
Cross volunteer profiles are written by communications volunteer
Patrick Wilson and provide a behind-the-scenes look at some of the
incredible people who help to deliver our mission.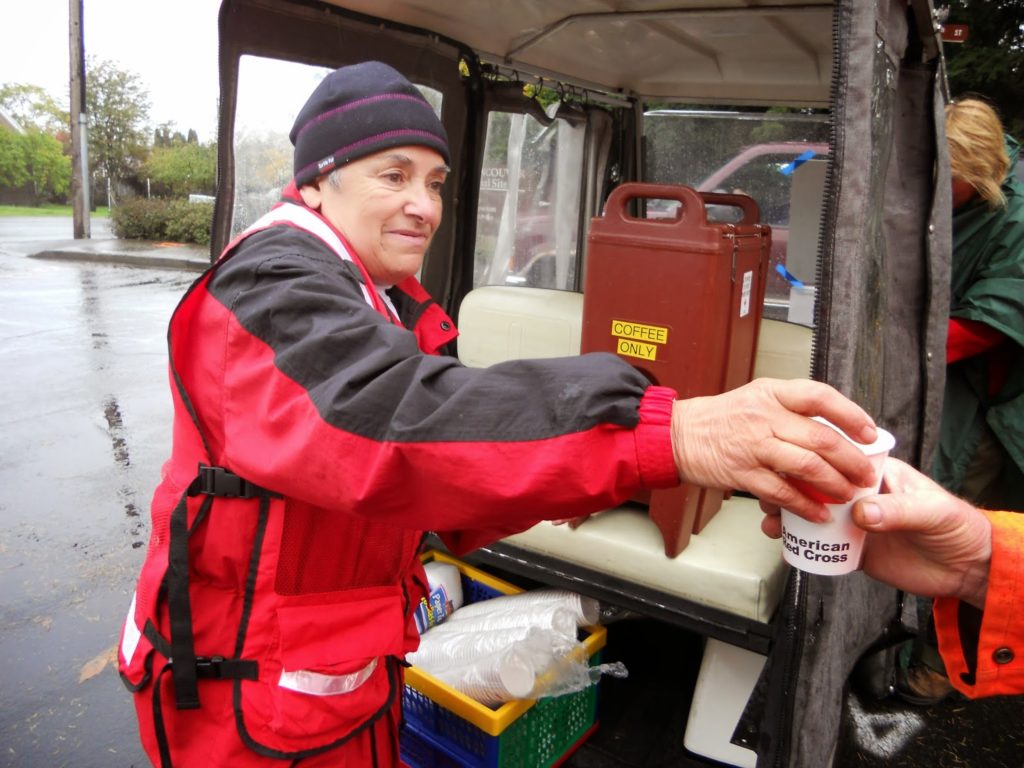 Julie has dedicated years of service to the Red Cross, locally and nationally.
Julie Burger has spent 47
years with the Red Cross, both as paid staff and as a volunteer. Upon coming to
the Southwest Washington Chapter in 1999, she joined the Board of Directors.
Julie says, "While I've worked with many different chapters, I've never had the
opportunity to work with a more dedicated board. They're very involved in all
aspects of the work of the organization and are always willing to lend a
hand." Last year Julie was involved with
the chapter's biggest fundraiser, the Hero's Breakfast, which was attended by more
than 600 guests and collected $147,000, the highest ever raised. Recently Julie
and her husband, Major General Leslie M. Burger, U.S. Army (Ret), served as the
Grand Marshals for the Vancouver Veteran's Day Parade. This is one of the
biggest parades west of the Mississippi and provided a wonderful opportunity to
connect with the local community. Julie clearly enjoys being busy and can
masterfully juggle many balls.
Besides her board work, Julie very much
likes being out in the trenches. She helped support Hurricane Sandy relief
efforts, frequently participates in local disaster relief, and is active in
recruiting and training caseworkers to support the U.S. Armed Services. She loves
being involved in disaster relief, working with volunteers and interacting with
disaster victims. She speaks several languages which allows her to communicate
freely with people from very diverse cultures. She often serves as an
ambassador for the Red Cross, doing many public speaking engagements. Since she
supervises the Service to the Armed Forces program
in
her chapter, one of her favorite topics is the work that the Red Cross does
with the military. She reminded me during our interview that Red Cross has a
long and proud history of serving the military and their families beginning
with Clara Barton on the battlefields of the Civil War.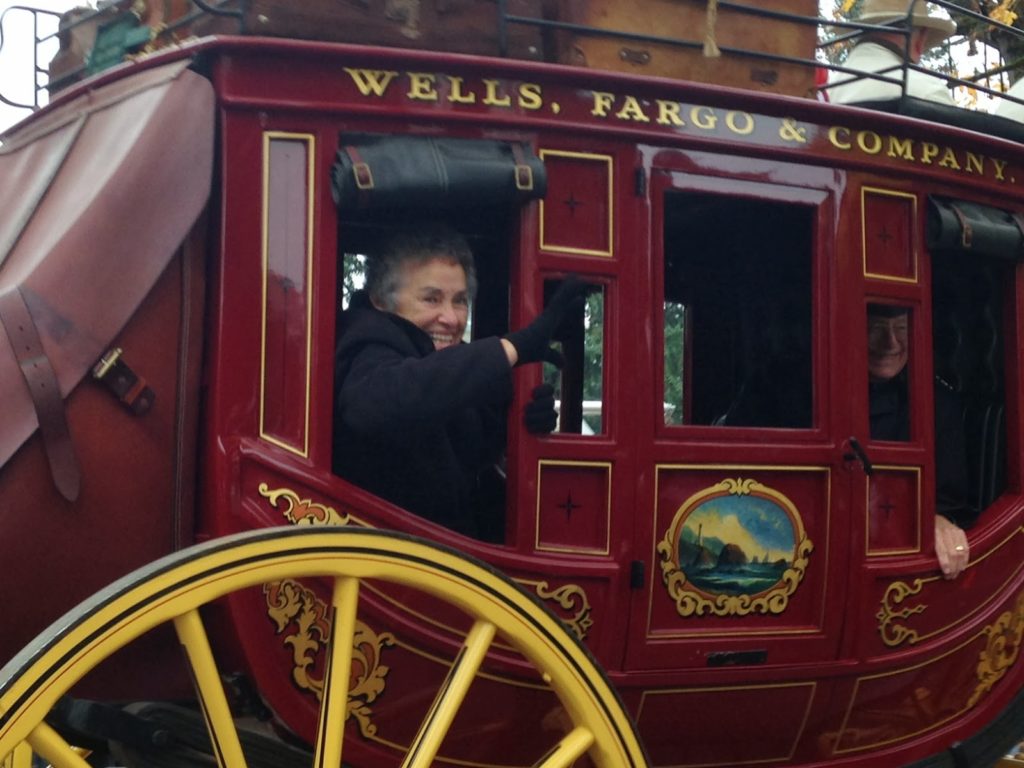 Julie as Grand Marshal in the Vancouver Veterans Parade
Julie highlighted the special role Red
Cross plays in supporting the military by recounting a personal story involving
her own family. She has three sons, all of whom have served in the military.
While one son was in Iraq, his pregnant wife developed complications. Her
daughter-in-law was very eager to have her husband return home during this
emergency. She called and asked if the general could intercede. The general's
response was, "Call the Red Cross! They have more influence in these situations
than I do!" The Red Cross is the organization that provides objective, factual
and verified information on critical emergency situations. Julie says that it
is always gratifying to be able to tell a family member that their loved one is
coming home.
Given the number of years she has
dedicated to the Red Cross, many as a volunteer, Julie has lots of valuable
insight about volunteering. While discussing this she mentions the old adage,
"It is better to give than to receive," and followed that with some interesting
insight. "You know, you feel better when you give, and recent research has
verified that. No matter how sick you are, your disposition and general well-being
improves when you are helping others." She decided to personally test this
premise when she was stricken with a rare form of cancer. She was being treated
with a strong, lengthy chemo regimen. Since she would spend a week on chemo and
then go home for a week, she wanted to capitalize on the weeks she was in the
hospital. She asked that her casework files be brought to the hospital so she
could continue working on them. The result was she felt better when doing the
work and others often commented on how much better she looked and sounded when
she was engaged in her work. Julie also reminded me that people who volunteer
tend to live longer. Sitting at home struggling with pain seems to be far more
draining and depleting than reaching out to provide assistance to others in
need.
While Julie's years of wisdom were
obvious in our discussion, it was interesting that she said one thing about
volunteering I have heard before from many volunteers with far less experience.
"If you are given a job and it isn't working out, say something. Do not become
discouraged and leave. Keep looking. There are many different jobs at the Red
Cross and chances are one of them will be a fit for you." She told me about
being asked to find a position for a young blind man years ago. That certainly
represented a challenge. Regardless, she finally found him the perfect position
in the lab developing
x-ray film.
One of Julie's more heartening
experiences occurred while here in the Northwest assisting with Tracing
Services. She was asked to assist with reconnecting two people who had been
separated when they were small children as a result of the holocaust. When she
saw the names, her heart jumped. She knew one of the two. The person was an individual
she met here in Vancouver. After helping to rejoin them, via phone, email and
Skype, she is looking forward to being present when they meet face-to-face next
year.