Volunteer Profile: Southern Oregon volunteer is a "Jill of all trades" when it comes to Red Cross volunteer roles
Red
Cross volunteer profiles are written by communications volunteer
Patrick Wilson and provide a behind-the-scenes look at some of the
incredible people who help to deliver our mission.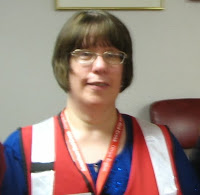 Back in 2012, Annmarie Huber attended a Red Cross preparedness
presentation that became a critical catalyst for her. She realized that the Red
Cross could provide ample opportunity to fulfill her desire to serve her
community. Subsequently, she joined the Southern Oregon Chapter where
preparedness became one of her main interests. Her quest was nurtured by the
eagerness and support provided by the other volunteers and staff she met
through her work. When asked what was most initially challenging as a
volunteer, Annmarie said, "Being clear about what I can and can't do for people
coming to us for help. I naturally want to do everything possible for the
people who seek out the Red Cross for assistance, but it's necessary to
understand that time requirements and limited funds often create limits that
need to be respected. At the same time, she said, "I faced a steep learning
curve in seeking to master the areas I chose to work. This was made easier by
staff and volunteers willing to support and teach me." Annmarie feels that the
Red Cross is a strong community organization when it comes to ensuring all
volunteers and staff receive thorough training.
Annmarie has chosen to work in a wide number of areas: disaster
assistance teams, preparedness outreach instructor, government liaison, as well
as working in the Glendale shelter during the wildfires there last summer, and
working in the warming center in Grants Pass last winter. Her greatest love is
her instructor role which is facilitated by the public speaking she has done as
part of her day job, helping people with hand and arm rehabilitation. She loves
being in front of groups and naturally responds to lively class discussion. She
provides training to both children and adults and stresses that very different
approaches are needed for the two audiences. Adult presentations are typically
very factual because adults often have a general understanding of the topic but
have gaps in their knowledge. Children are much more interested in a highly
interactive approach and want the opportunity to practice critical survivor
skills immediately. She says, "The public would be surprised to see how willing
kids are to talk about disaster and how much they already know about how to
effectively respond." Annmarie was a little anxious when she faced her first
presentation which was with a large group of young people ages eight to 12. The
normal Red Cross routine for preparing to teach
which includes first attending the class, then
co-delivering the training with a skilled presenter a few times, and then
flying solo with a qualified presenter in the room
,

provided an abundance of confidence building.
Her work as a government liaison has been an eye-opener for her,
she says. "Our government employees are dedicated and professional."
One of her assignments involved working in
Jackson County with the Seventh Day Adventist Church to assist community
members to better understand how to handle earthquake preparedness. She
presented a Sunday afternoon session for nearly 200 people and had several
government officials present to help educate the people who attended. These
officials included the county sheriff, the fire marshal, the head of public
works and others. She saw the session as a huge success as indicated by the
level of group discussion, plus the number of people who had comments and
questions after the session.
Annmarie also spoke about her work in the warming center. "Many
people who showed up didn't realize they would be able to stay overnight but
they took full advantage of the center. Many used the opportunity to charge
electronic devices they couldn't charge at home, many stayed to eat that
evening and/or returned the next morning for breakfast, and they all went away
better understanding the services the Red Cross could offer them."