Volunteer Profile: Carrie Sammons – Many years, much experience
Red Cross volunteer profiles are written by
communications volunteer Patrick Wilson and provide a behind-the-scenes look at
some of the incredible people who help to deliver our mission.
Carrie Sammons joined the American Red Cross working for
blood services beginning in
1995
and for the local chapter in 2000.
Having spent significant time around disaster services during her
initial tenure,
including
a deployment to World Trade Center and a three-week internship at the Red Cross
Disaster Operations Center in Washington, D.C., in 2001,
she found herself drawn to this work.
The opportunities to be more engaged and to travel appealed to her. She
is now a volunteer with the Oregon
Mountain River Chapter in Bend. Carrie says that
volunteering with the American Red Cross provides many
opportunit
ies to work in
various areas. She started in public affairs, both local and national, and then
moved on to government relations and logistics. She is also on a disaster action
team (DAT) member, is a rotating regional duty officer, and most recently
worked in
operations
assisting with the Two Bulls wildfire in Bend.

Carrie says, "I like how
diverse
the
organization is. You can chart your own career."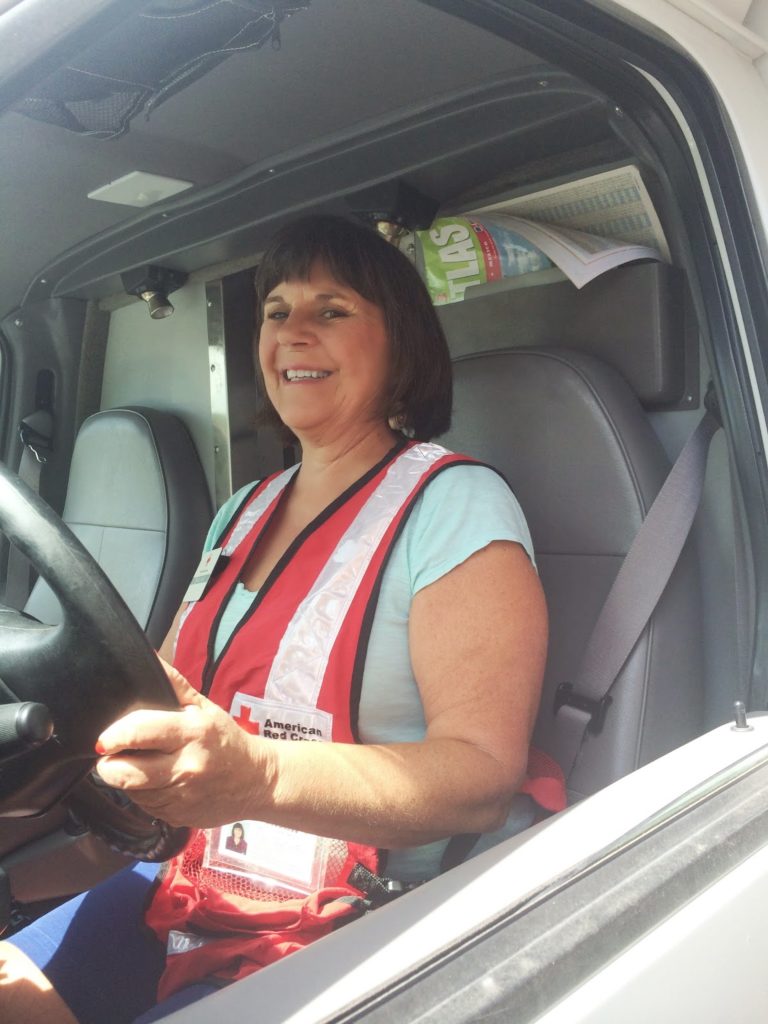 Last
year she helped with the
East
Peak Fire in Colorado. (This 2013 forest fire, fueled by high heat and winds,
broke the record for the most destructive and included the second largest area
in Colorado history.) She was sent from the headquarters to support the fire-fighting
effort in Southern Colorado. Her first order of business was to track down the
emergency managers for all the affected counties. In the midst of establishing
clear lines of communication with them and educating government officials about
how the Red Cross could be a resource, she discovered that some counties had no
emergency plans for managing these kinds of disasters. In her liaison role she
hooked the county managers up with experienced hands who had developed plans
before. At the same time she
worked
with a field team
and
maintained
communications
to keep them informed
of
the questions and issues
related
to fires. "This is just another example of how important it is to remain
flexible and to adapt to the challenges that fall your way," says Carrie.
"Not
only can you be thrown into a lot of different jobs, you can also face very
different living conditions during a Red Cross deployment. While my job changed
several times, one of my enduring roles was to provide testament to the
presence of the Red Cross."
Carrie's first deployment as a public
affairs officer was during the 2001 Tropical Storm
Allison
in
Houston. As part of a public affairs team, she was the first to arrive as
people were scurrying in every direction. There was only one other public
affairs officer on hand and there was a lot of media and Congressional
attention. "We did a lot of learning on the run," she says.
"One of the most satisfying aspects of
working for the Red Cross is when people show simple appreciation for what you
do to help them. During one of my DAT responses I came across a young man whose
dog had disappeared during a home fire. He was devastated by the loss. I was
talking with him, seeking to calm him. Looking out the window, I saw a neighbor
approach
leading a dog. I
suggested the young man turn around and look out the window. He did and then
turned back and faced me with the broadest smile on his face. This
appreciation, plus doing work you really enjoy, is truly valuable."