Volunteer Profile: Ron Johnson – Exceptional Service Award 2014
Ron
Johnson is a relatively quiet guy who gets along well with other volunteers. He
is easy to talk with and comfortable being a worker bee, keeping focused on the
day-to-day tasks that are so vital to the success of the Red Cross. He's not as
comfortable being the guy who is up front, leading and directing things.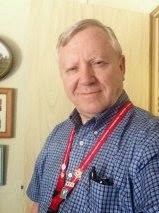 Like many volunteers, Ron sees the value of training.
Volunteers in the Red Cross receive an abundance of training to ensure we have
a skilled and versatile work force. Extensive training is one of the things
that a distinctive element of the Red Cross. Ron also appreciates the importance
of having an accurate and up-to-date record of that training. Without this
information, it
's hard to
determine who is qualified for the number of local, regional, and national
assignments that arise. Ensuring our Red Cross chapter, with more than 2000
volunteers and 30 different disaster training specialties, has a current and
accurate record of all the training received is no small task. But here is
where Ron excels. His knowledge of computer programs was a natural tie-in to
taking on the role of improving and updating the SABA system. This is the system
that is designed to keep an accurate record of all volunteer training.
To do the job effectively, Ron had to master two
different database systems and a report writing program that supported them.
Then he determined how to integrate the two programs. The final step was to
update the volunteer records and make this process easier for volunteers to do
on their own. In spite of the tedious nature of this work, it was performed in
a consistently superior manner and yielded a quality outcome.
So while Ron
's
selection to perform this work was no surprise, his selection to receive the
2014 Exceptional Volunteer Service Award was a pretty big surprise, for Ron.
How often does the person plugging away on a tedious program get called out for
their service? He did this time. And he provided his thoughts on volunteering.
"The
Red Cross volunteers are critical to the mission of the organization because
they care," says Ron.

"They are willing
and able to take on the challenges and hard work that come their way. Many of
the people we help have great needs at the point in their lives when they cross
paths with the Red Cross. And it is often small things that make a difference,
like providing warm meals and a dry bed to families coming to a shelter. The
Red Cross helps where it can and does not expect anything in return."
Our
Volunteer Profile series offers a weekly glimpse at some of the amazing
volunteers who help drive the American Red Cross mission forward. With nearly 2,000
in the state, these volunteers serve as the backbone of our organization, and
we could not exist without their compassion and commitment. Volunteer profiles
are written by our communications volunteer, Patrick Wilson