Volunteer Profile: Sherry Sethi – Reuniting families near and far
Sherry Sethi is a student from
India attending college in Portland. She has been interested in the work of the
Red Cross for some time but was under the impression that only U.S. citizens
could volunteer. She was talking to a friend one day who detailed all the
different services that the Red Cross provides, which further peaked her
interest. When she learned she could indeed volunteer with the Red Cross, she
joined the Cascade Region in June 2013. She has been delighted with her
experience ever since.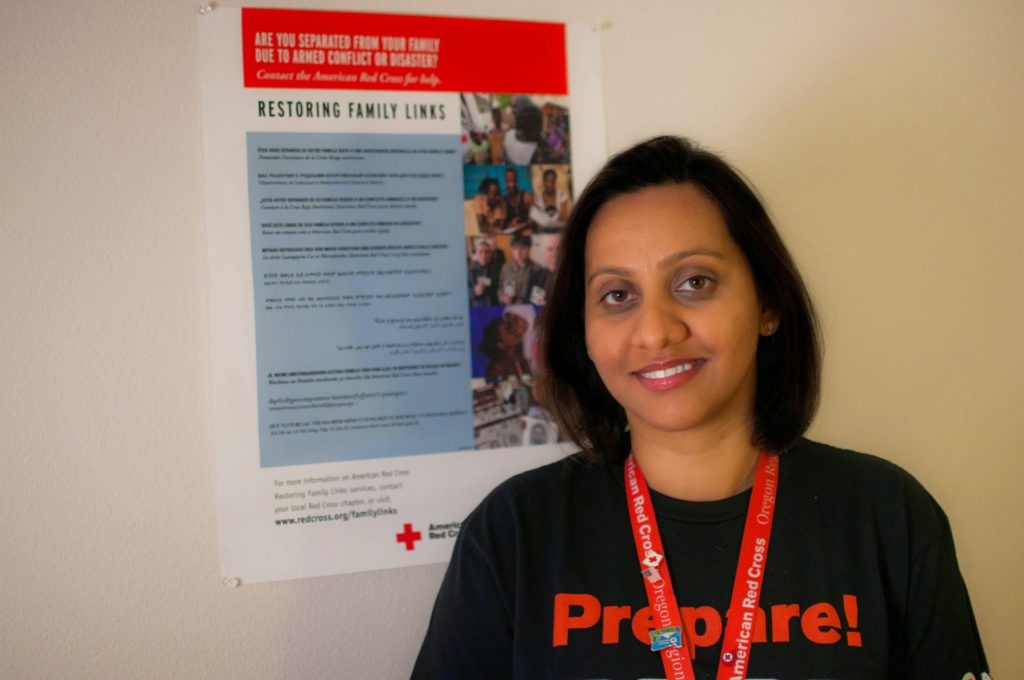 Sherry first worked with Public
Affairs before moving on to Disaster Services. She was trained as a DAT
responder and still performs in that role when needed. Most exciting and
rewarding for her however, was her move to International Services and the Red
Cross Restoring Family Links program. The primarily purpose of the program is
to reconnect individuals and families separated by war or disaster. Sherry has
had a number of challenging and rewarding assignments reconnecting separated
family members.
One very memorable situation
involved a mother and son separated for
more than
30 years. An
American woman had married a foreign national and moved to his country. Later,
family disputes forced her to return to the United States without her 10-month
old son. She
tried to reconnect with him for many years and
eventually gave up any hope of ever seeing him again.
Nearly 25 years later when the
boy's father died, the now grown man located a letter written by his mother
indicating she was attempting to get him back. The son used the letter to try
to establish contact with his mother through the Red Cross Restoring Family
Links program and Sherry received the assignment.
When the researcher seeks to
contact the other party, they often do not have enough information to know for
certain if they are contacting the right person. A number of questions
are asked, and basic background information collected and shared to fine-tune
the search. Most searches are conducted with only fragmentary information, but
after some research, Sherry confirmed the identity and location of the
mother.
In the midst of the discovery
process other problems often arise. When Sherry reached out to the possible
mother, the woman was suspicious. Who was calling? Did Sherry really work with
the Red Cross? Before Sherry could provide more background, the woman directed
her to hang up so she could call the Portland Red Cross to validate that Sherry
was an employee. When that failed (as a volunteer, Sherry was not listed on the
employee roster) a second contact was made. The mother requested to meet Sherry
the next day in Portland. Sherry, who was not scheduled to volunteer the next
day, hurriedly changed her schedule.
The mother met her in the Portland
office and all doubt vanished. Before contact information could be shared
however, Sherry had to ensure the relatives wanted to be united.
Sherry says this work is
particularly rewarding. "Volunteers need to be empathic no matter what
direction the search takes," She says. "It is emotional, too. I sometimes end
up crying with the parties I'm working with." Once the contact information was
shared, the mother and son began a long distance dialogue. Sherry continues to
work reconnecting separated families and says it is very rewarding and exciting
when she is able to reunite to help reconnect separated loved ones.
Red Cross volunteer profiles are written by communications
volunteer Patrick Wilson and provide a behind-the-scenes look at some of the
incredible people who help to deliver our mission.