Volunteer Profile: Fun instruction with Robin Bacon-Shone
Robin
Bacon-Shone has been teaching, in one form or another, for most of her life.
She loves being in a classroom abuzz with engaged learners. Robin sees teaching
as a major vehicle for helping people to discover and unlock their potential. A
gifted volunteer instructor from Southern California inspired Robin to support
her own community as a Red Cross volunteer in Oregon. Following her retirement
from more than years of teaching, Robin joined the Red Cross in Portland in
2008. She was already thoroughly familiar with the Red Cross culture. She had
passed through every tier of our Learn-to-Swim program, been certified as a
lifeguard, and taken more than 40 Red Cross courses in first aid, CPR and
earthquake preparedness.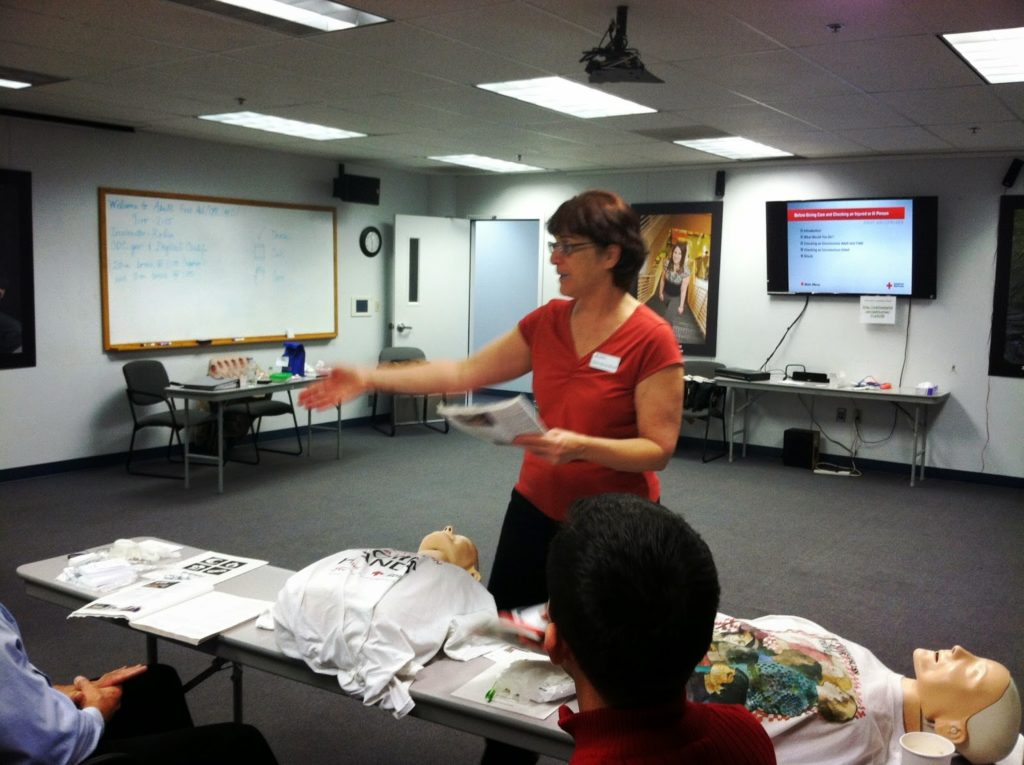 "Adjusting to the Red Cross culture was easy because of the tsunami of support
I received each time I stumbled or asked for assistance," says Robin. Members
of the Health and Safety Services team guided me every step of the way while
they enveloped me in a blanket of appreciation for my time and service to the
American Red Cross."
And
guess what? Robin now spends most of her volunteer time either teaching
participants or helping novice instructors to perfect their skills. She
understands that many beginners lack the confidence needed to perform
successfully, so Robin remains attentive to their needs in the moment and
provides a wealth of feedback – gentle corrective guidance when errors occur
and positive reinforcement when inexperienced participants and instructors
master new skills. "I can see people's confidence grow in the course of just a
one-day workshop," she attests.
Robin
provides an exceptional model as a teacher. She has learned to incorporate her
life experiences as a dance instructor, song leader, and story teller into her
instructional style. A lively and versatile presenter, Robin uses drawing,
movement, song, drama and comedy to keep serious subject matter engaging and
memorable for the hundreds of participants she teaches each year. Robin knows
that it is important to fully engage her students' senses and emotions in order
to reach them and maintain their interest. Thus she teaches participants to
recognize a heart attack by acting out the accumulating symptoms as her students
enumerate them. To teach effective CPR, Robin belts out "Stayin' Alive" – a
well-known oldie whose tempo is precisely 100 beats per minute – exactly the
minimum speed for performing chest compressions on an unconscious victim who is
not breathing.
"By
linking the physical skill of CPR to a catchy tune, this new learning quickly
becomes a part of the body's muscle memory," Robin explains. The students join
into Robin's musical rendition so enthusiastically that workers at her end of
the building look forward to hearing an energetic, classroom-wide chorus of "Stayin'
Alive" just before each day's class breaks for lunch.
About
twice a week, Robin teaches day-long courses in first aid, CPR, and AED to lay
or professional rescuers. She also leads babysitting and child care courses for
our community's pre-teens, teenagers and adults. Like professional actors, she
has taught herself to shift style and performance to match each day's script
and audience. Her previous work with young people of all ages and a cross
section of adults helps her to understand, and adjust to the many different
participants who sign up for Red Cross courses. This skill was captured in a comment
by a student in Robin's class: "It has provided a fantastic understanding of
what to do in an emergency.

Everyone
should take this course."
Our Volunteer Profile series, written by communications
volunteer Patrick Wilson, offers a behind-the-scenes look at some of the
incredible people who help to deliver our mission. We are grateful for their
compassion and commitment.