Celebrate Red Cross with the Portland Trail Blazers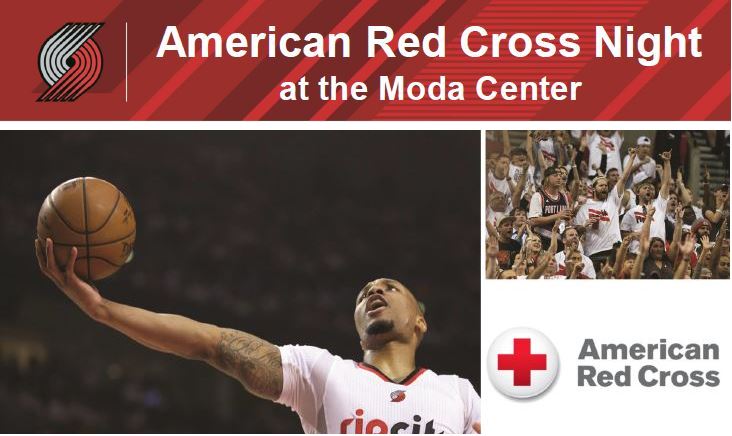 March is Red Cross Month! Join
us for another thrilling night of basketball at American Red
Cross Night at the Moda Center on March 25th. Don't miss this
unique opportunity to enjoy a fun-filled night with your family and friends
when the Trail Blazers take on the Minnesota Timberwolves in an epic Western
Conference Battle! Order tickets now: the order deadline for this special
Red Cross group deal is February 25th! And $5 from each ticket will go back to support the American Red Cross and Disaster Relief.

Plan to stay in your seat at
halftime as we honor our local Red
Cross Heroes on the Trail Blazers court. Red Cross will have a
table on the 100 level concourse at entry A-25, so stop by and learn more about
all the ways the Red Cross works for our community. From disaster relief,
to blood donation, support to military members and their families and training
in lifesaving skills – the Red Cross is there.

Come show your support for
the Red Cross and remember to wear red!!!
Saturday, March 25 @ 7:00 p.m.


Moda Center
1 N Ct St
Portland, OR 97227
**The ticket order deadline
is February 25th. Be sure to order before then!