After Flurry of Winter Tornadoes, Volunteers Spring into Action
"People have lost absolutely
everything. A lot of these people don't have a home. Taking them a meal
seems like something really small, but to them it is big. They're so
thankful. When their focus is on the big picture and everything they have
lost, a meal or a rake or a shovel means a lot." – Judy Kimmons, a
Red Cross volunteer from Medford, Oregon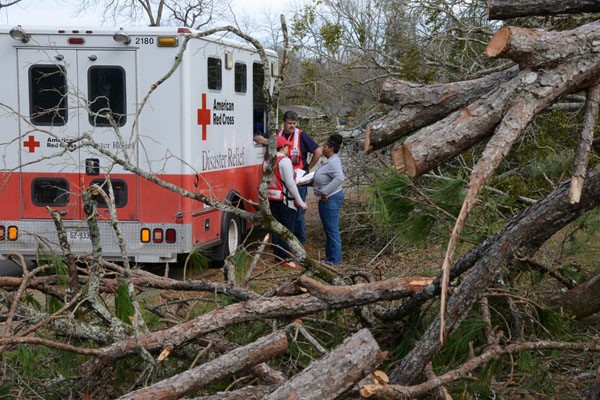 In the midst of an unusually busy winter, with an increase
in responses to local disasters like home fires, apartment fires and intense winter
storm activity, the Red Cross of Oregon and Southwest Washington has deployed six
responders from Medford, Salem, Woodburn and Portland, Oregon, and Longview,
Washington, to help communities devastated by more than 60 tornadoes that swept
across Texas, Louisiana, Mississippi, Alabama, Georgia, Florida and South
Carolina last weekend.
For more than a week, the Red Cross has been helping people
affected by the deadliest January for tornados in five decades. The Red Cross
has provided shelter to people who have lost their homes, served over 80,000
meals and snacks and distributed more than 28,000 relief items to people
affected by these severe storms.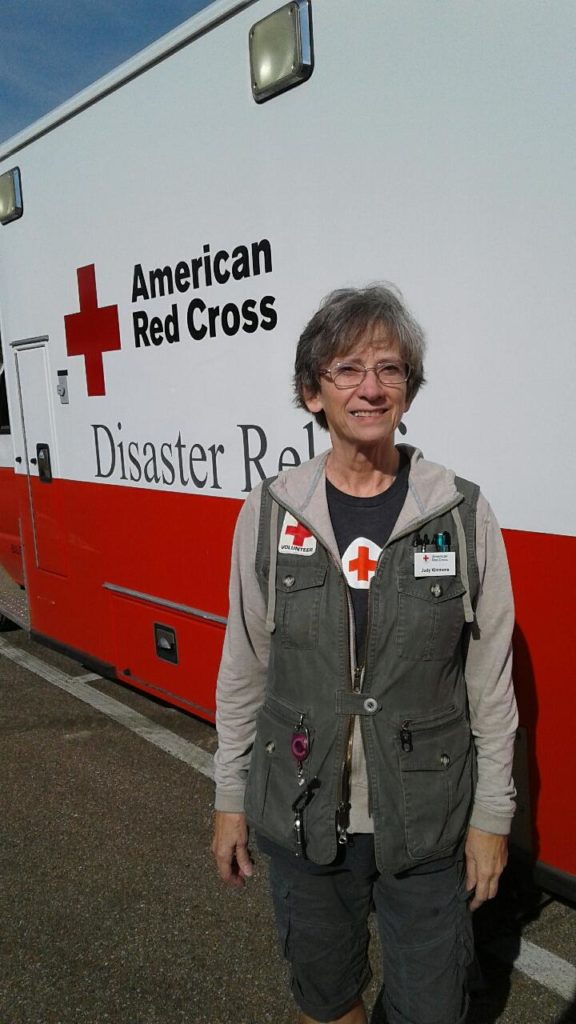 Judy Kimmons, a Red Cross volunteer from Medford, Oregon, is
deployed and helping people affected by storms in Hattiesburg, Mississippi. She
was originally deployed to help with IT Services, but emergency response
vehicle (ERV) drivers were needed, so she stepped up to help. She is traveling
out in affected neighborhoods, delivering food and water to people who are
otherwise stranded.
"You get to know the people," said Kimmons. "We go out to
the same neighborhoods every day for two weeks. Some people can't leave their
homes, so we take meals and water to them. You get to know them and get to be
friends"
Ann Fenderson, a Red Cross volunteer from Salem, also
deployed to Hattiesburg last week to assist that area's local Red Cross chapter
in training and onboarding new disaster response volunteers. These volunteers
will help with existing Red Cross response activities for those affected by the
tornadoes and will be equipped and ready to serve their communities in the event
of future disasters.
Community members from all over have rallied together to do
what needs to be done to help their families, friends and neighbors recover
from the string of tornadoes that touched down across several states. Red Cross
training provided by volunteers like Fenderson is empowering those who want to
help but aren't quite sure how.
"There is a gentleman here who is originally from
Hattiesburg but who now lives in Washington, D.C.," said Fenderson. "When he
heard about the tornado here he took off time from work, unpaid, so that he
could come back to his hometown to help. His first stop was to come in to Red Cross
headquarters to find out how he could help."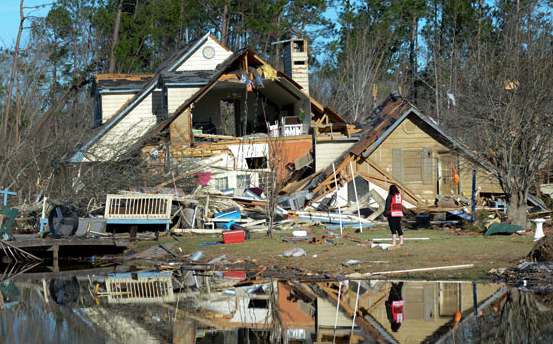 The extent of the damage across the states affected is
devastating. The 60 tornadoes that touched down across the Southeastern U.S. last
weekend have made this month the deadliest January on record for tornadoes in nearly
50 years. More than 3,700 homes were damaged or destroyed. The Red Cross has
deployed over 500 workers so far to bring relief to those affected.
"I've stood out in the middle of the street and watched a woman
totally break down and cry," Kimmons said. "What else can you do but hold her
and cry with her? Give her comfort and help her figure out her next immediate
steps."
Although the destruction left in the wake of the tornadoes
is massive and overwhelming, the Red Cross has been there to provide support
for people affected to start rebuilding their lives. The response of the Red
Cross has been a huge relief to the many residents who have been reached so far.
"I get a good place to sleep and eat and that's all I can
do," said Horace Gardner, a resident displaced by a tornado in Georgia. "The
Red Cross has always been the Red Cross. They are always there."
The Red Cross depends on donations to provide immediate
relief. Help people affected by Southern Tornadoes and Storms by visiting
redcross.org or calling 1-800-RED CROSS. Donations enable the Red Cross to
prepare for, respond to and help people recover from this disaster.
The Red Cross honors donor intent. Donors can designate their donation to the Southern Tornadoes and Storms relief efforts by choosing that option when donating on redcross.org or on 1-800-RED CROSS.

The best way to ensure your donation will go to a specific disaster is to write the specific disaster name in the memo line of a check. We also recommend completing and mailing the donation form on redcross.org with your check indicating your donation designation as: Georgia Tornadoes and Storms, Mississippi Tornadoes and Storms.